Monthly Lifespan Respite Update Since July 1, we have assisted 100 individuals with respite funding (97 Children, 7 Adults, 6 Elderly) and they have already used $16,408 in respite funding. Scotts Bluff County – 45 Dawes County – 40 Box Butte County – 12 Sheridan County – 7 Morrill County – 2 Cheyenne County – 2 Kimball County – 2 We had a successful Respite Fun Day at the Chadron Aquatic Center with 22 individuals attending. Comments from the families included: We enjoyed the event and had fun swimming. It was great to get out of the house and have a good day! Thank you for hosting!!! The swimming was a very nice activity well enjoyed by kids and adults. Thank you. Absolutely loved respite fun day! It was a great experience! The kiddos got to meet other kids while doing so. Our next event is December 2 in Scottsbluff. The flyer and registration form are attached. We are excited at the continued increase in respite usage and hope you will continue to refer families who have a child on an IEP or IFSP or even a 504 Plan. I attached our most recent Provider list. We are still looking for providers, especially in Box Butte, Sheridan, Morrill, Cheyenne and Kimball Counties. Many families really enjoy that the kids can participate in activities such as dance, gymnastics and swimming. Please contact Ms. Tyree-Bowers or Ms. Alvord for more information. Ms. Tyree-Bowers can be reached at 308-783-1255 Ms. Alvord can be reached at 308-783-1733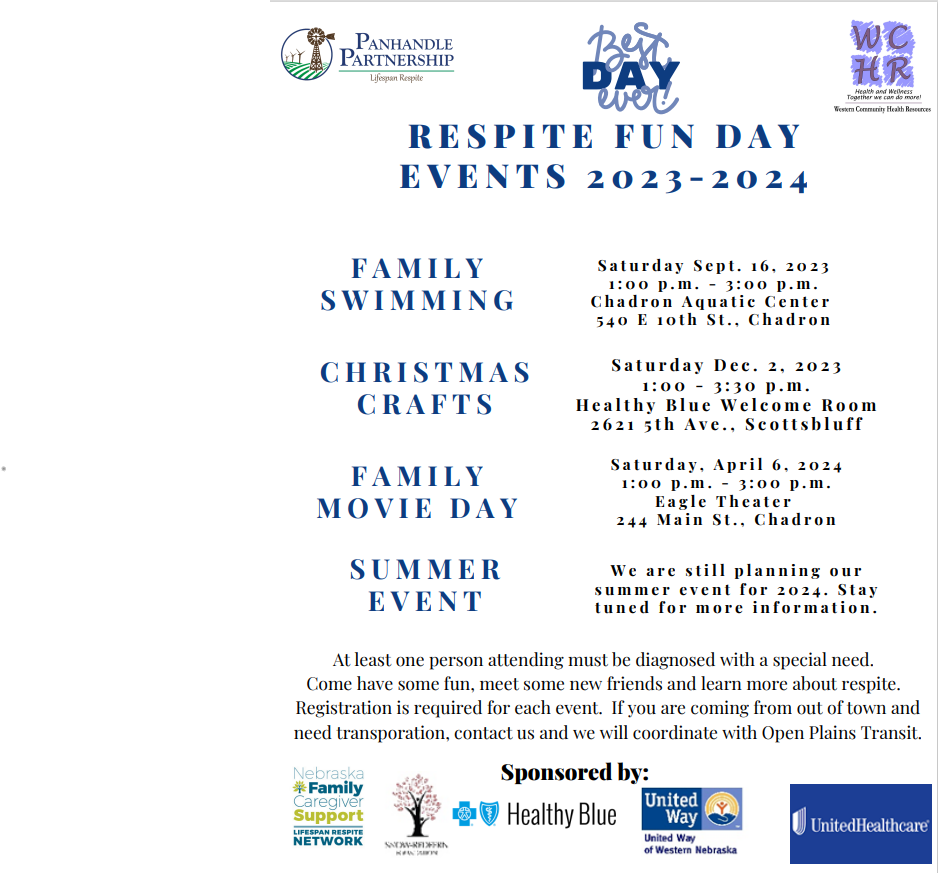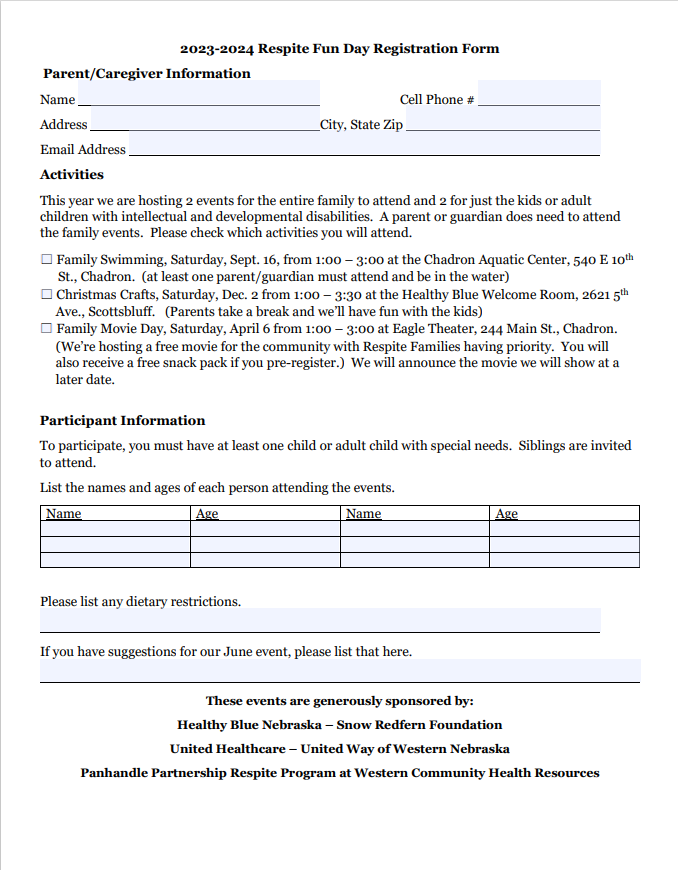 University of Wyoming Band Day! Minatare JH/HS Band and Minatare Football enjoyed the day in Laramie. The Band played with many other schools at the game.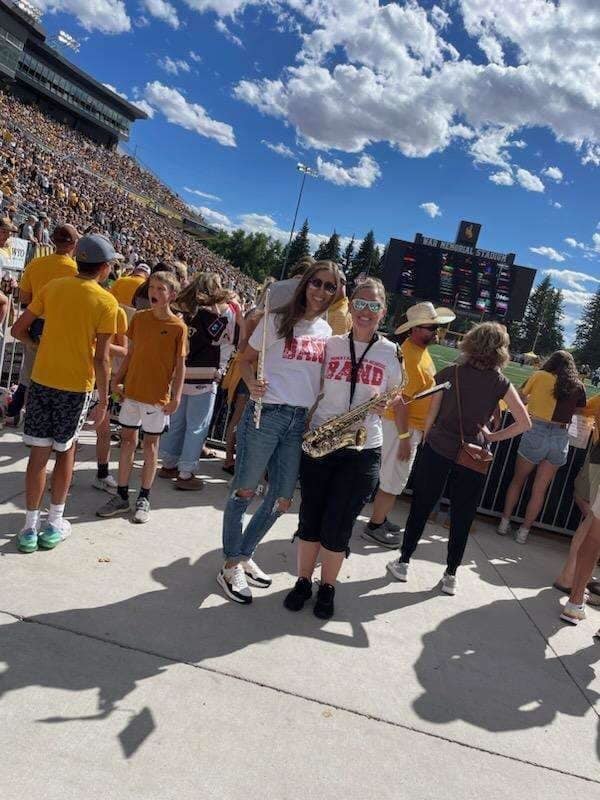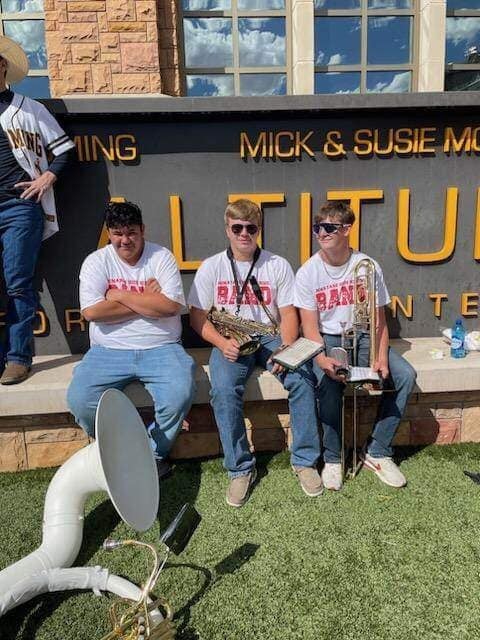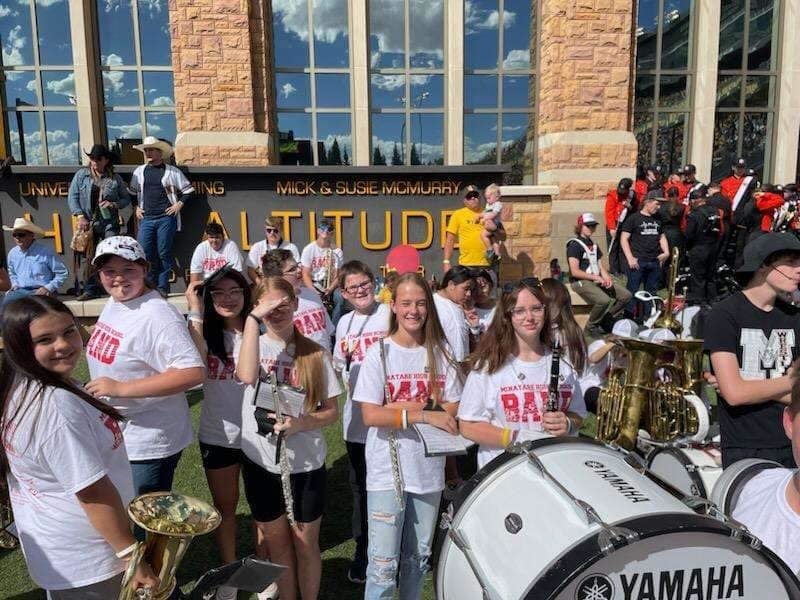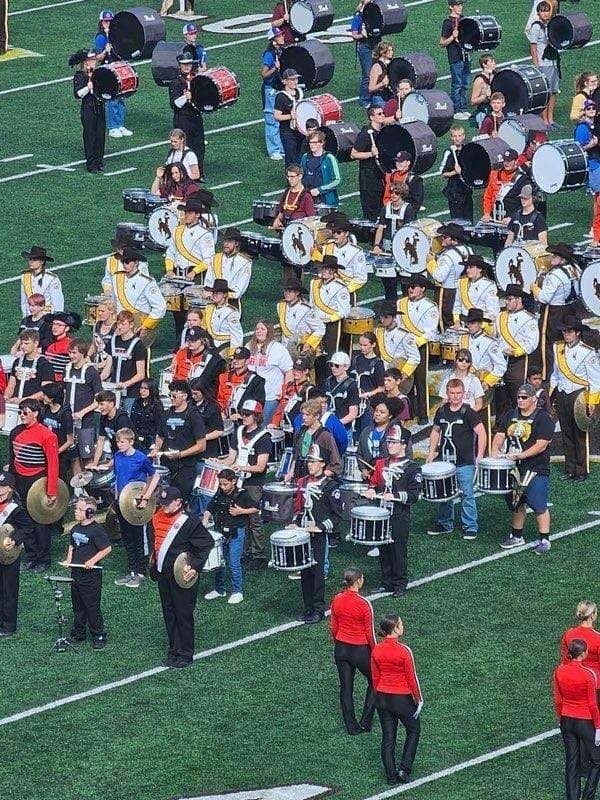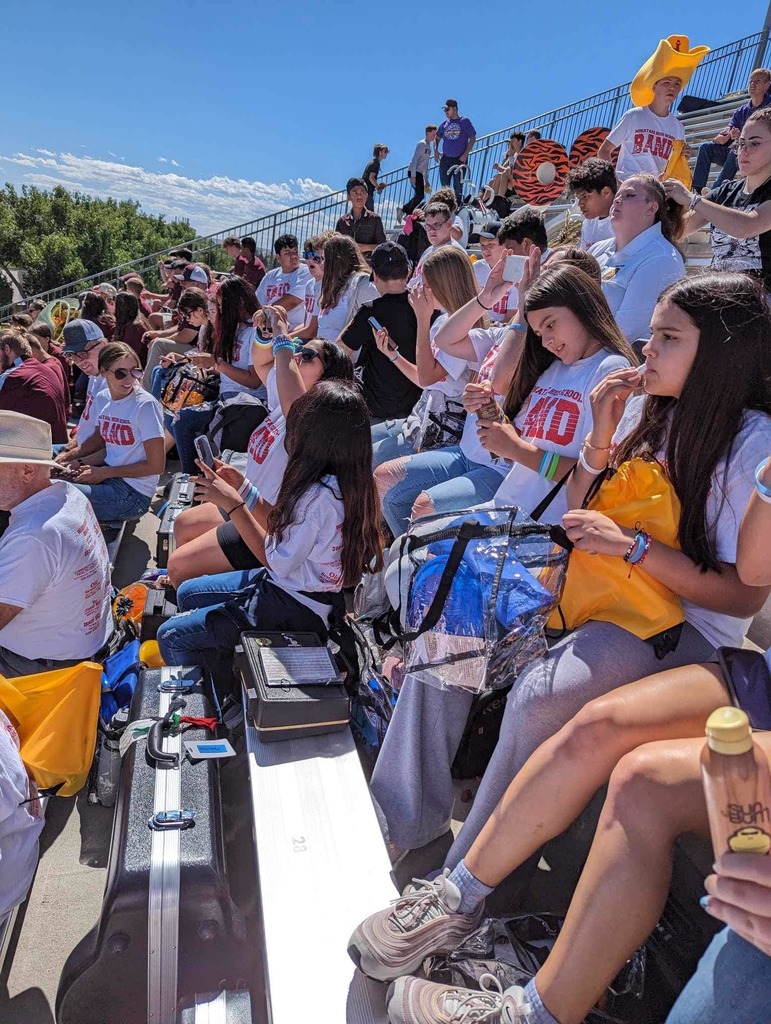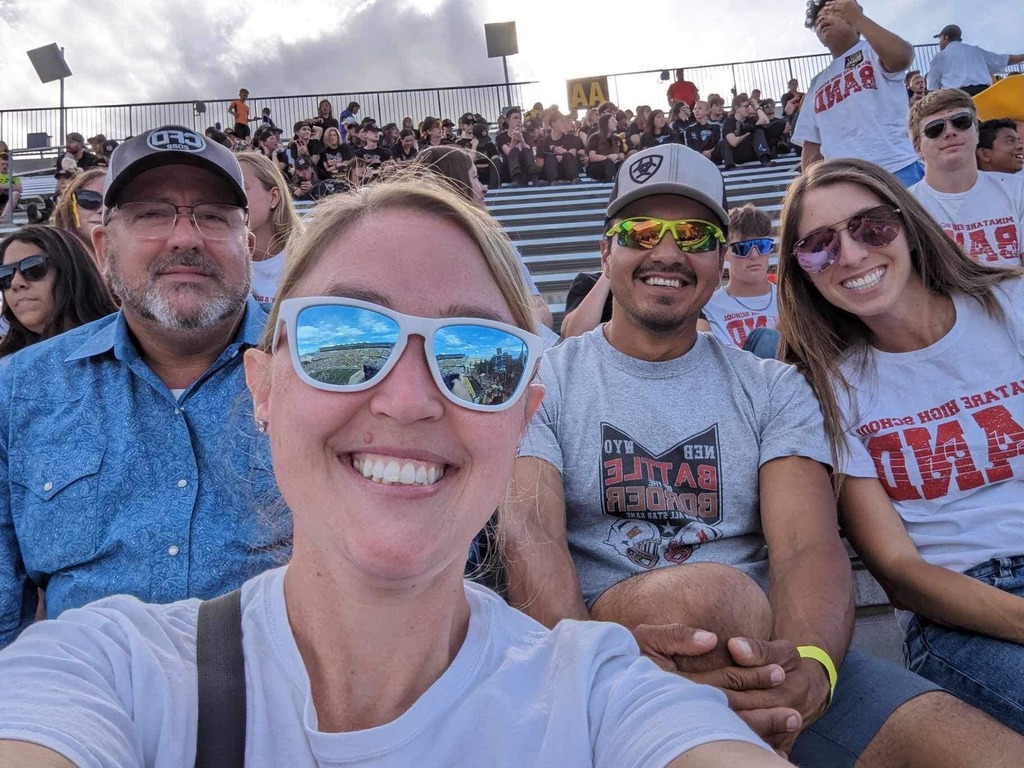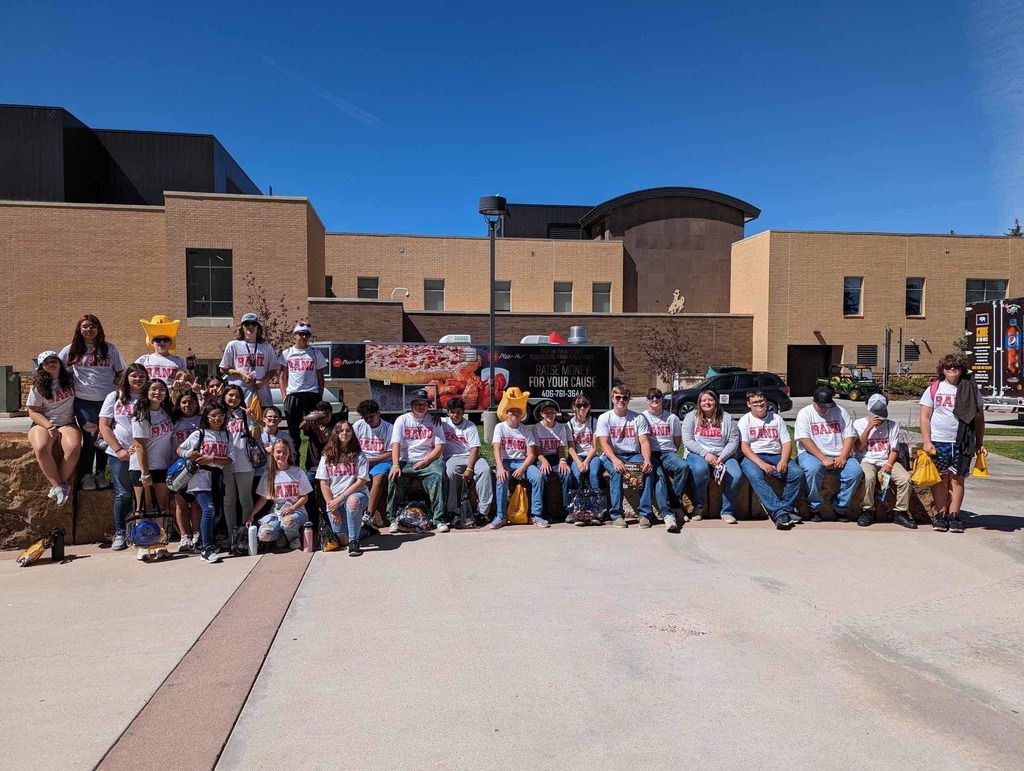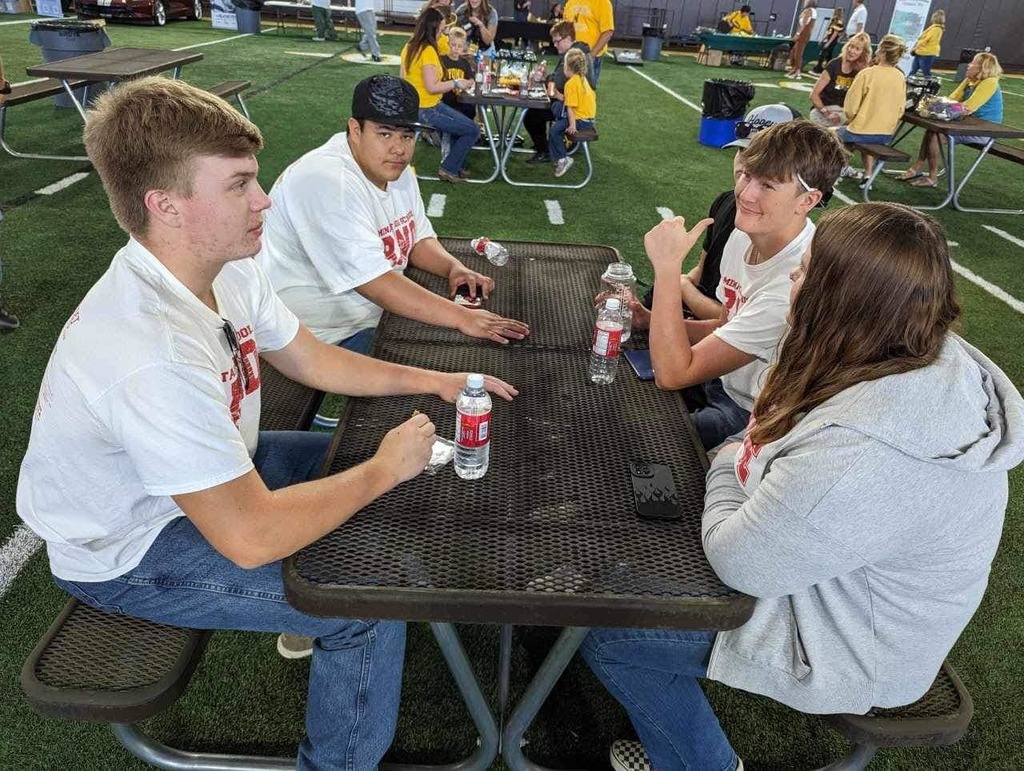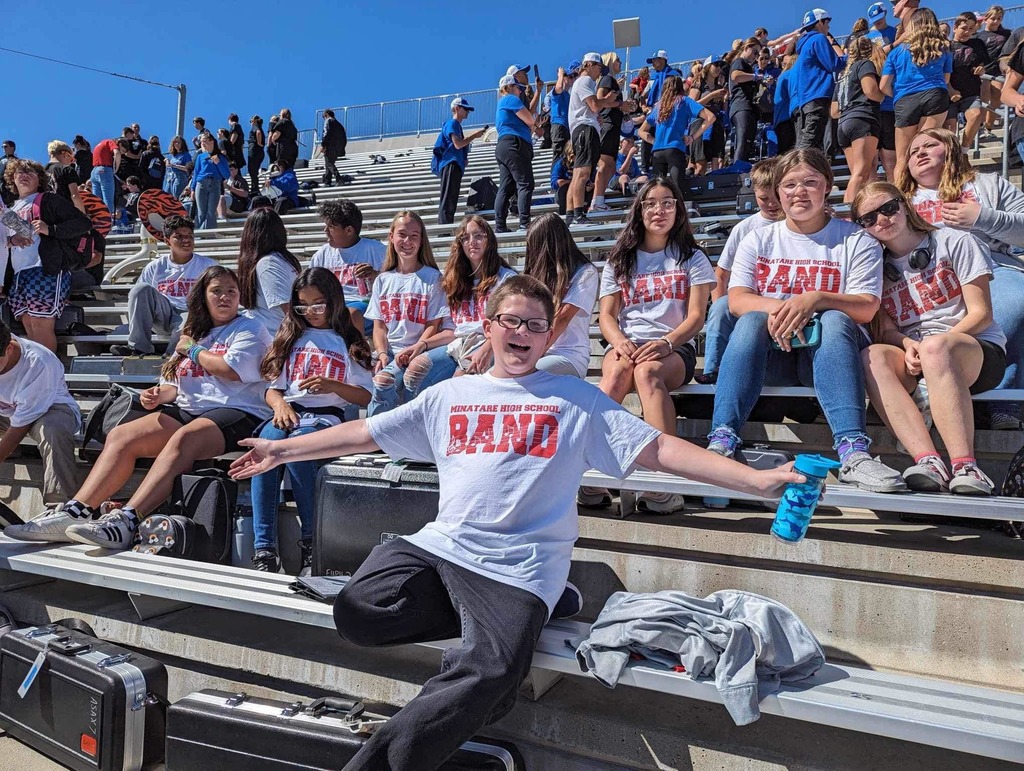 Minatare High School Students: Get your Teams together for the Homecoming Flag Football Monday August 28th, 6pm and you Teams for Volleyball on Tuesday August 29th, 6pm. Max team members (7), teams must have a name and the names must be G-rated. Rosters for said Teams need to be turned into the Principals office before noon on Monday August 28.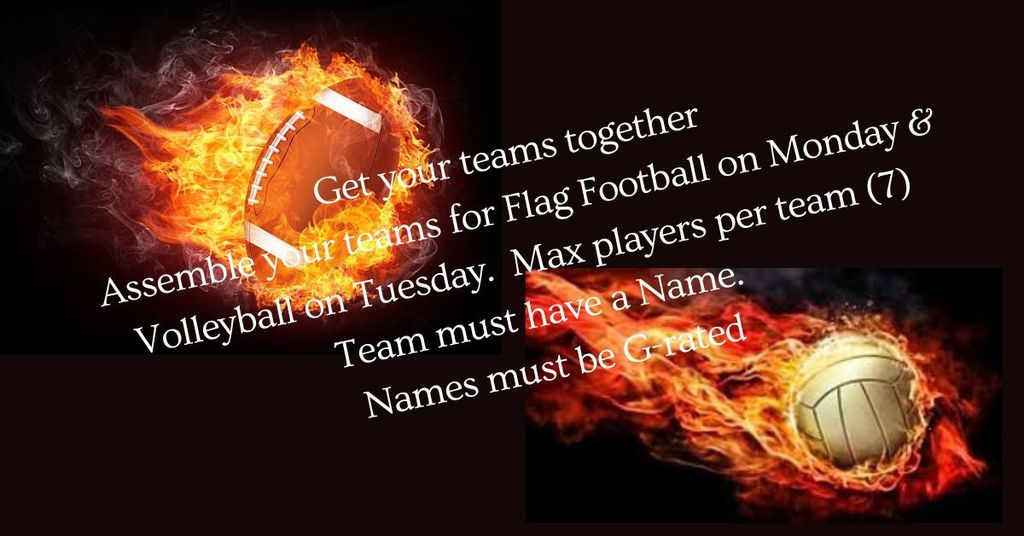 Wow what a great time at the Minatare FFA/Football fundraiser! #goatroping Even a guest appearance by Gering Native and Steer Wrestling World Champion Dean Gorsuch. Thank you Minatare Booster Club for the good food and Minatare FFA/Football team for the fun!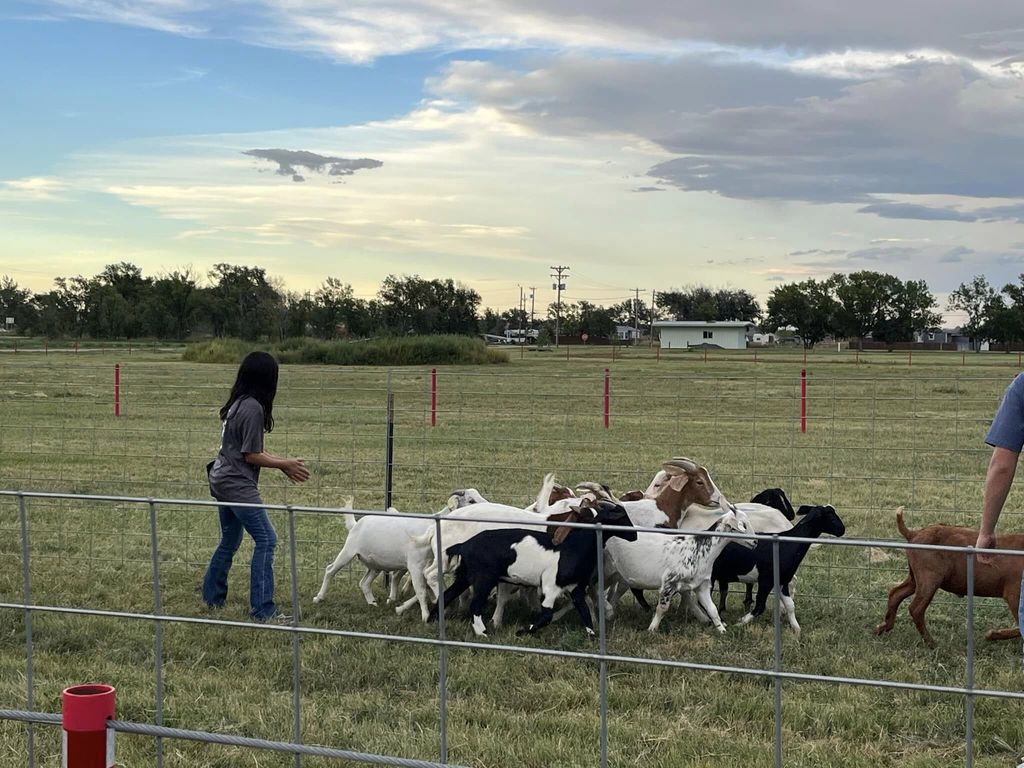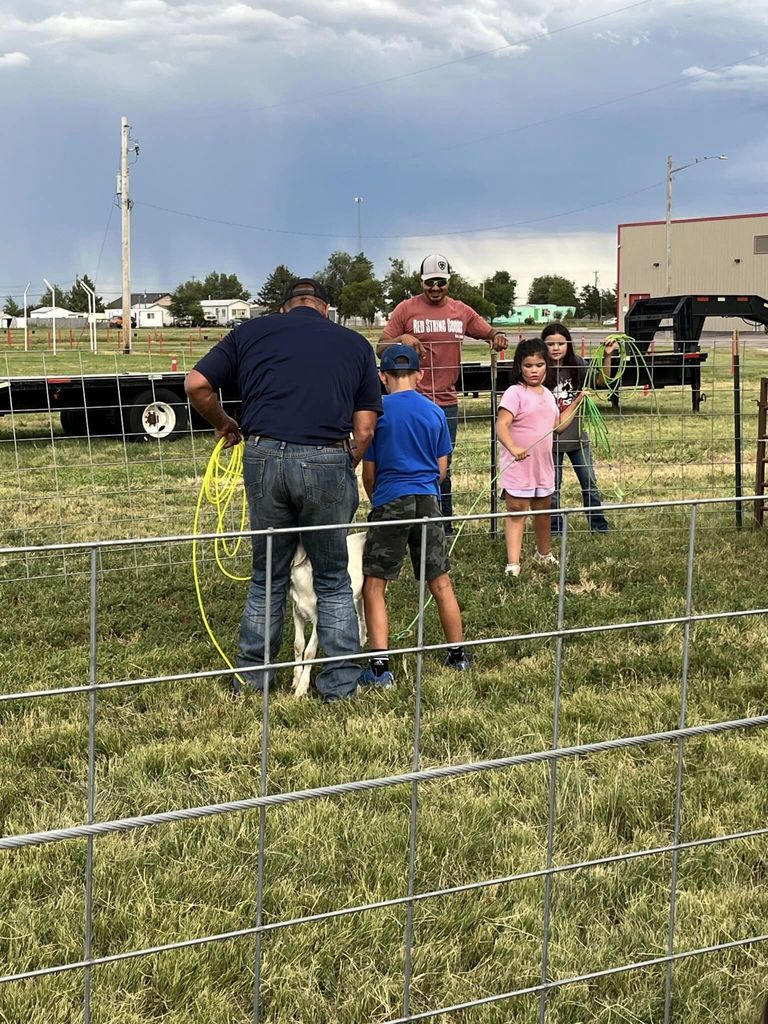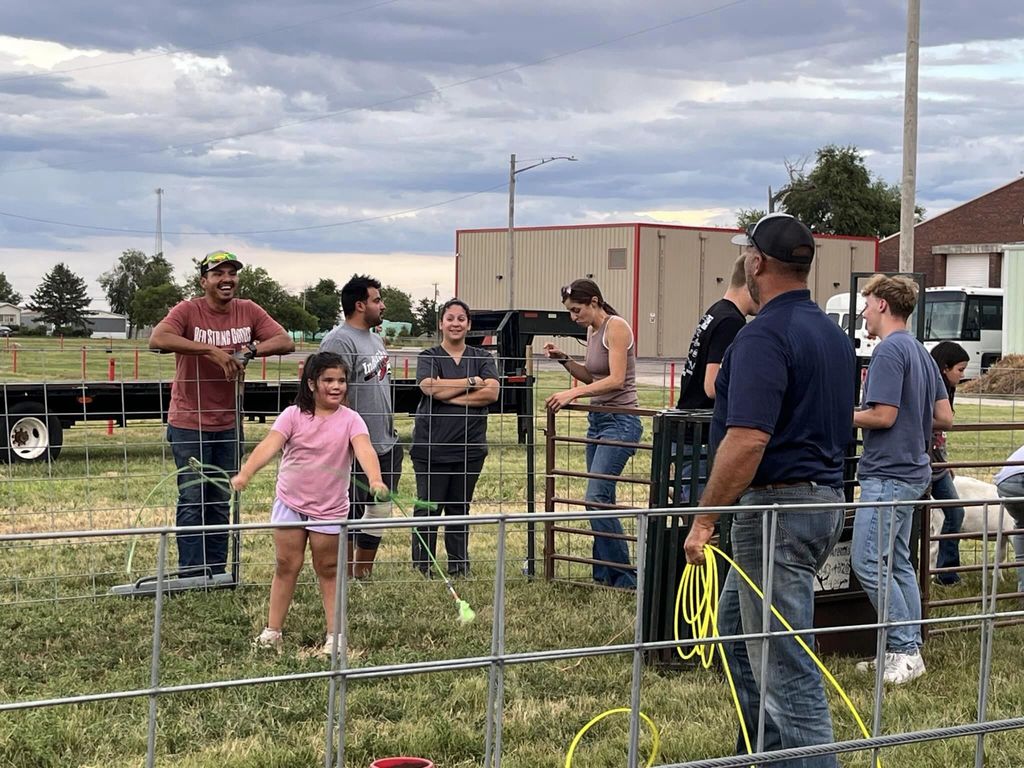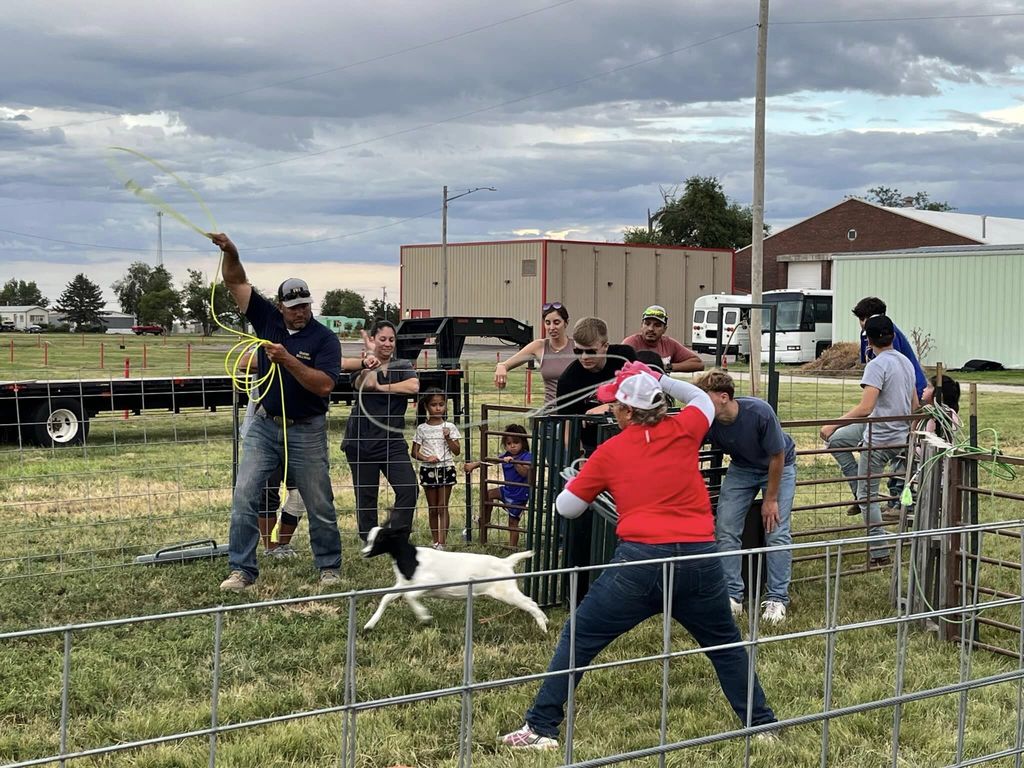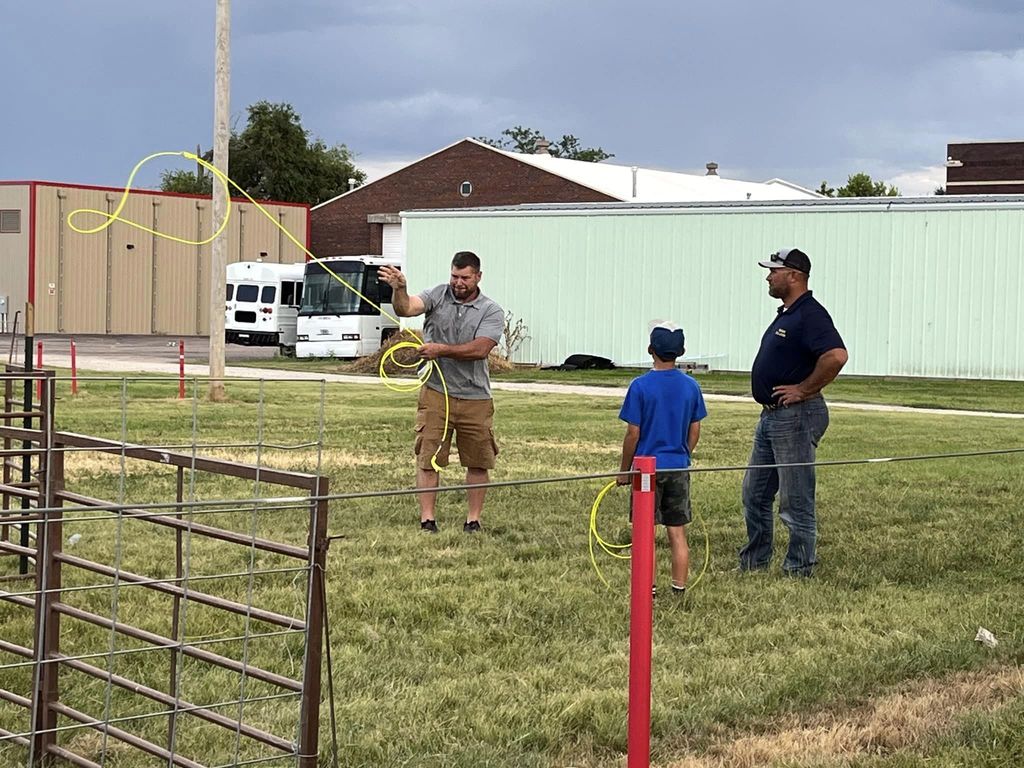 The City of Minatare brought back Tabor Days this year. Minatare Schools participated in the parade in a variety of ways. Some walked, some road the float, some rode on our school bus. We all enjoyed being a part of the "Good Ole Days".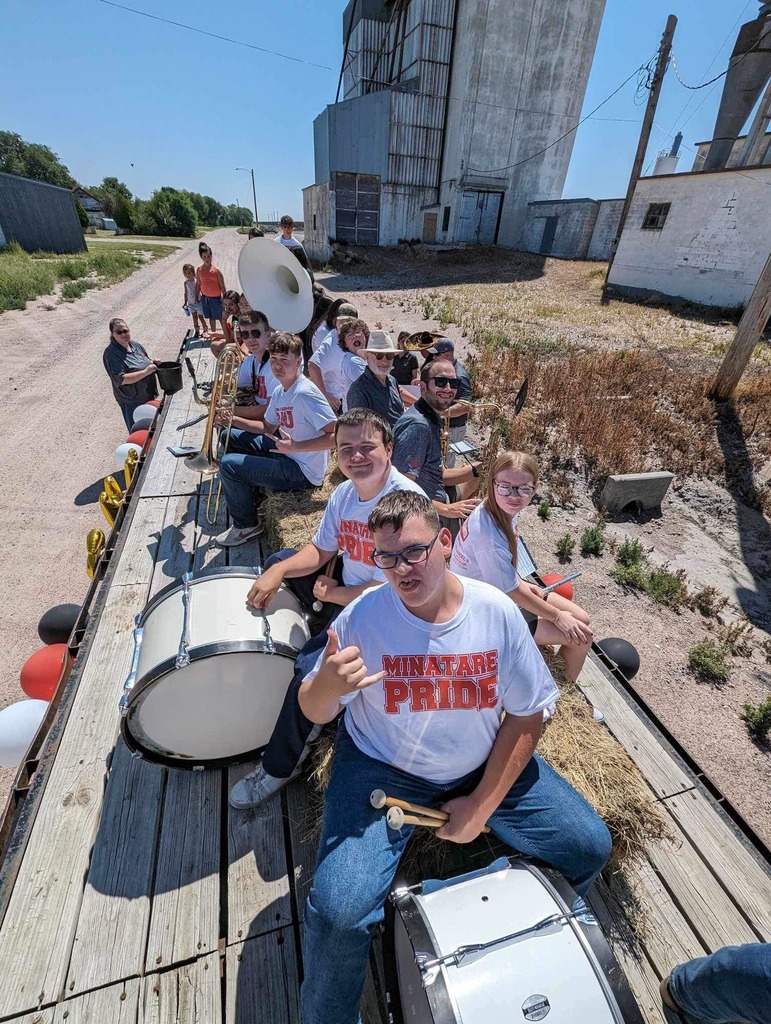 Monday August 14th we will Welcome Back Students for the 2023-2024 School Year. We cannot wait to see you all. Breakfast and Lunch served daily to all students for FREE. Staring Monday, August 14, 2023 the bus will run on this schedule: Pick up at Coop: 7:00 AM – 7:15 AM Pick up at Melbeta: 7:30 AM Drop off at Melbeta: 3:45 PM Drop off at the Coop at approximately 4:00 PM The bus will leave Coop no later than 4:10 PM. If your child is on the bus at that time, we will return him/her to the after school program, at the Minatare Elementary School 308-783-1255. See everyone tomorrow!!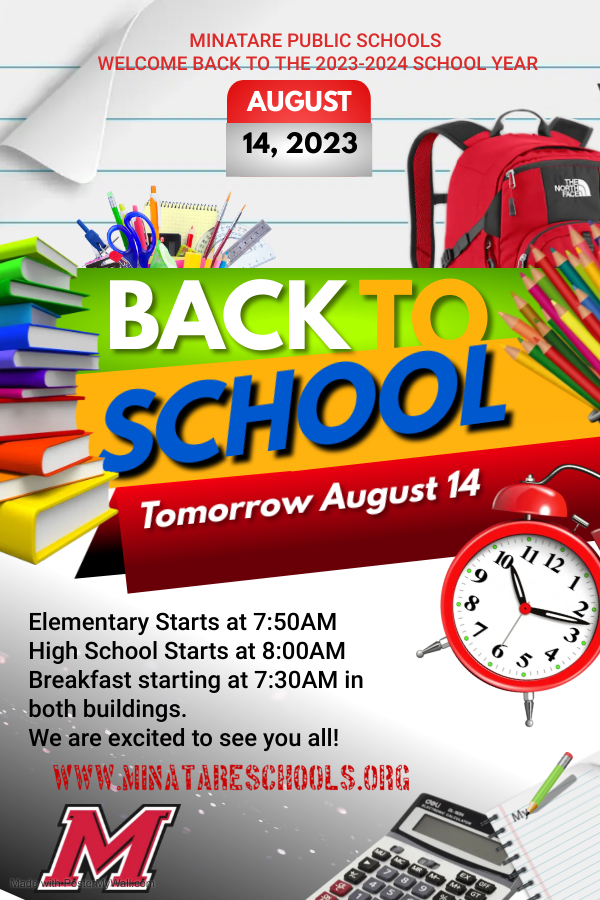 Staring Monday, August 14, 2023 the bus will run on this schedule: Pick up at Coop: 7:05 AM – 7:20 AM Pick up at Melbeta: 7:30 AM Drop off at Melbeta: 3:45 PM Drop off at the Coop at approximately 4:00 PM The bus will leave Coop no later than 4:10 PM. If your child is on the bus at that time, we will return him/her to the after school program, at the Minatare Elementary School 308-783-1255. You can pick him/her up there. Thank you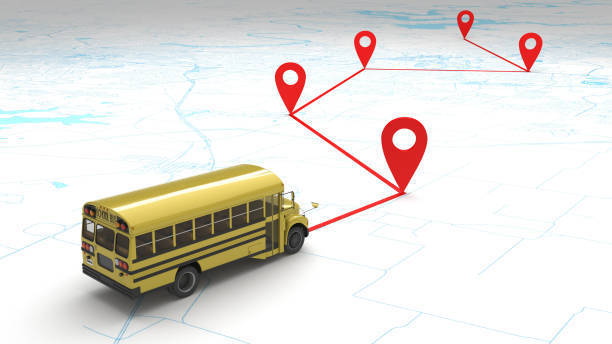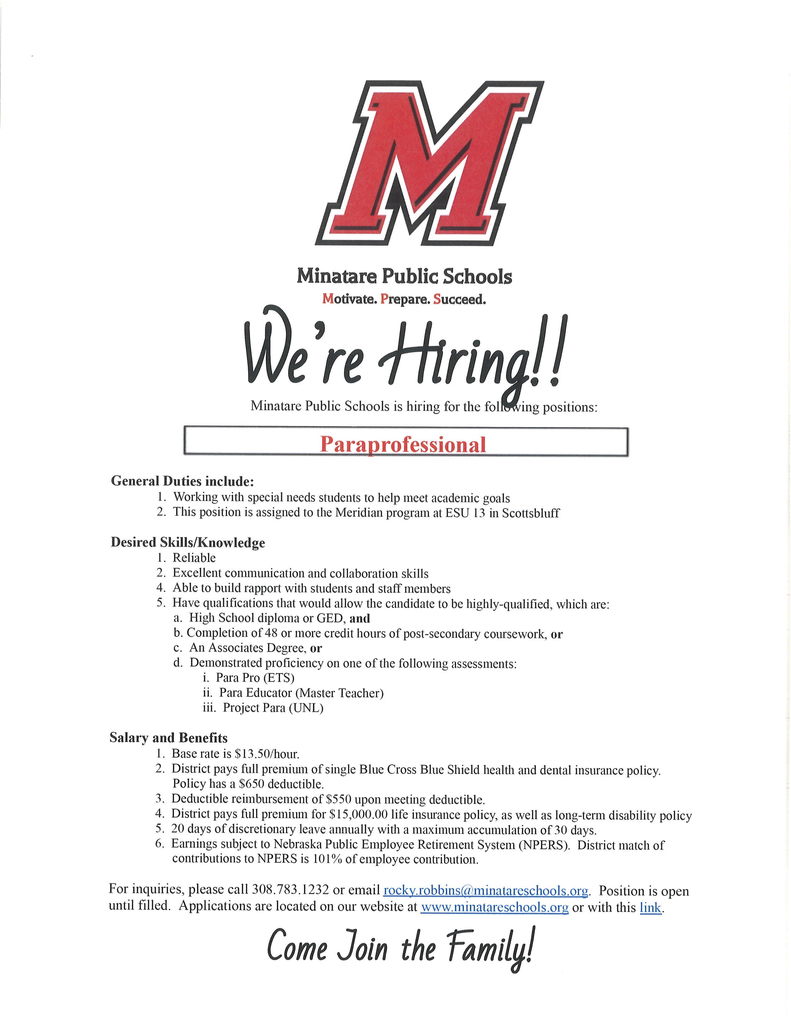 Minatare High School will host 6th & 7th Grade Orientation on Thursday August 10th at 5PM. Parents & Students will tour the building, go over the school handbook, fill out paperwork and be able to meet our Staff. Following Orientation will have have our Annual Open House from 6-7PM. See you all there.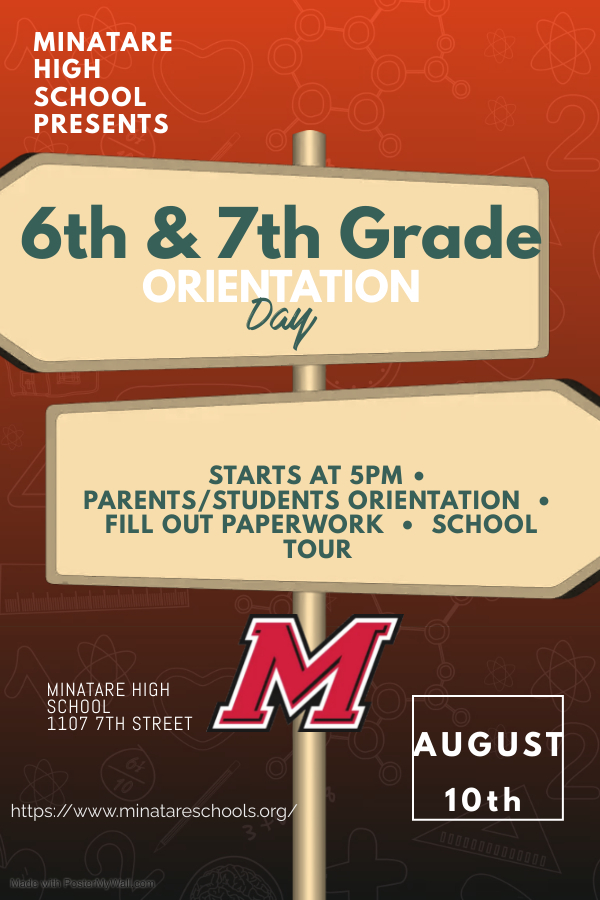 Reminder for our Parent/Athlete Meeting set for Monday August 7th at 5:30pm in the Minatare High School Gym. Please bring Athletic Physicals and Random Drug Testing Consent Form.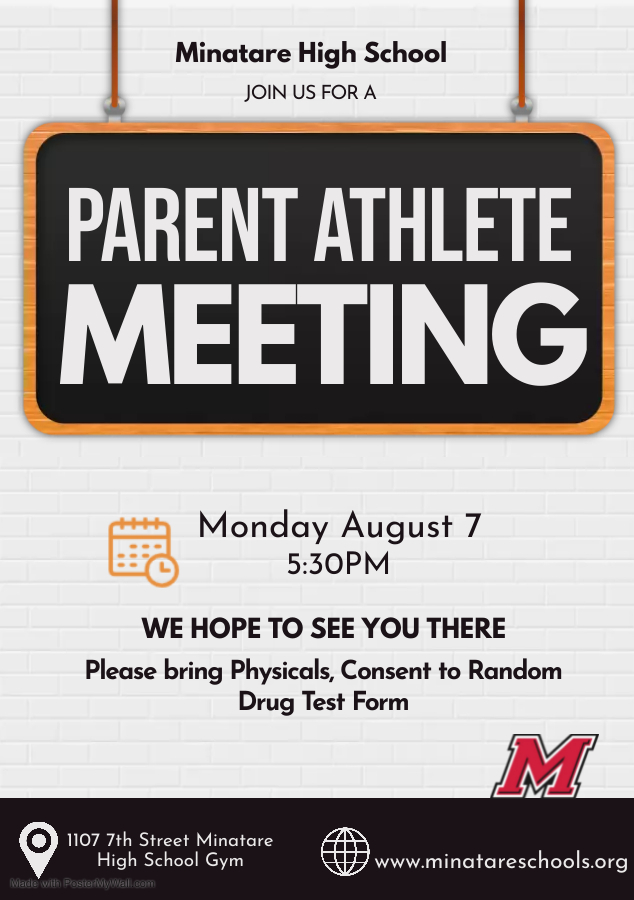 Mark your calendars Minatare Families!!! Minatare Public Schools Open House will be Thursday, August 10th from 6:00PM-7:00PM. School starts Monday, August 14th.

Minatare Elementary's 2023-2024 Supply List. School starts Monday August 14th. We are all excited and getting prepared to have all our little friends back in the building for another great year!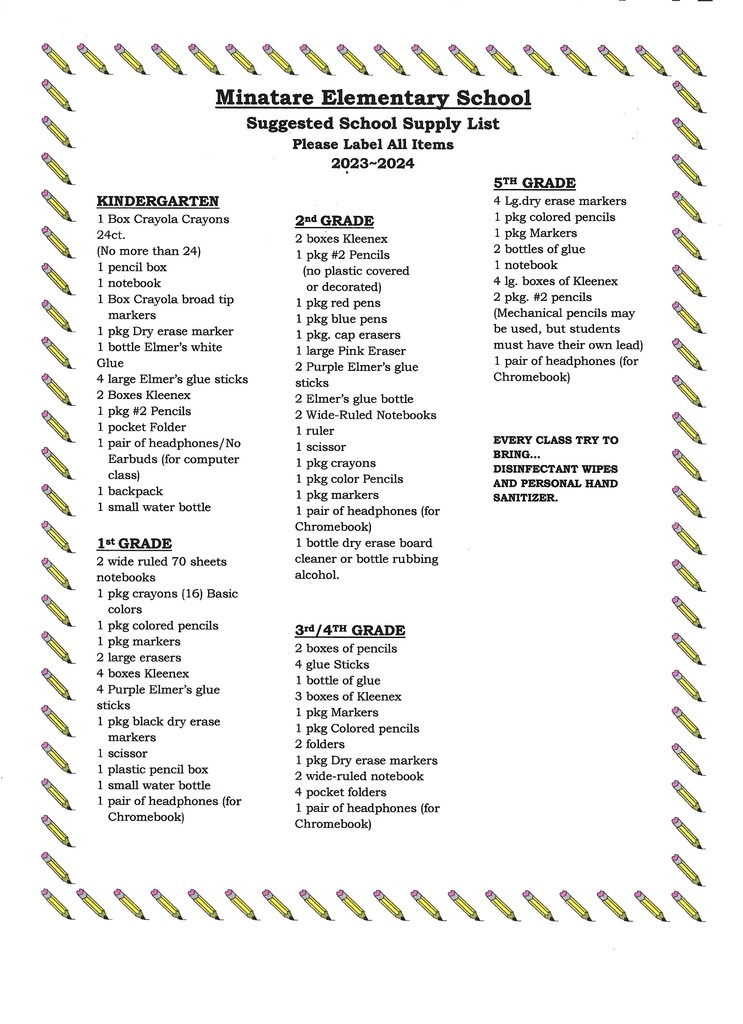 It's time to get your Kindergartner register for the 2023-2024 school year! If you have a child that is 5 years old or will be 5 years old by July 31, 2023, they are eligible to attend Kindergarten for this upcoming school year. The enrollment paperwork is available on our website at minatareschools.org. You can find them under documents. If you would like to make an appointment to get your child registered, please call 308-783-1255.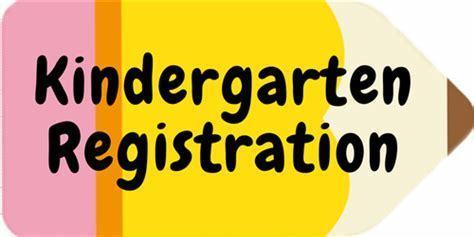 Come on out and enjoy the 2023 Tabor Day fun on Saturday August 19th, 2023!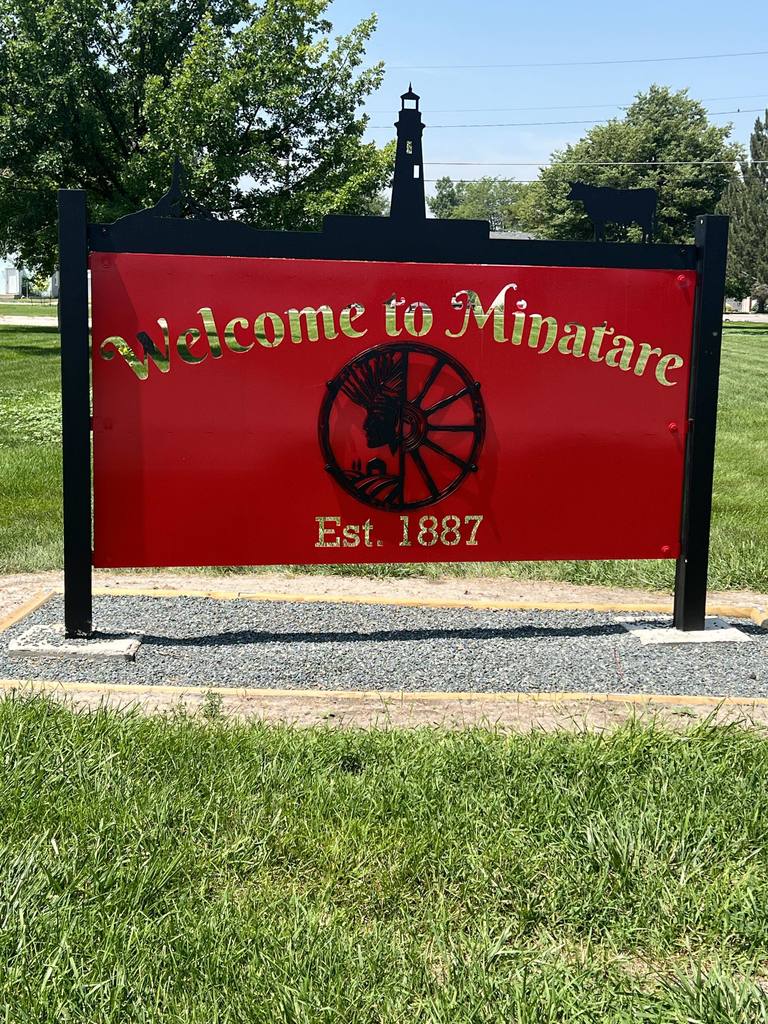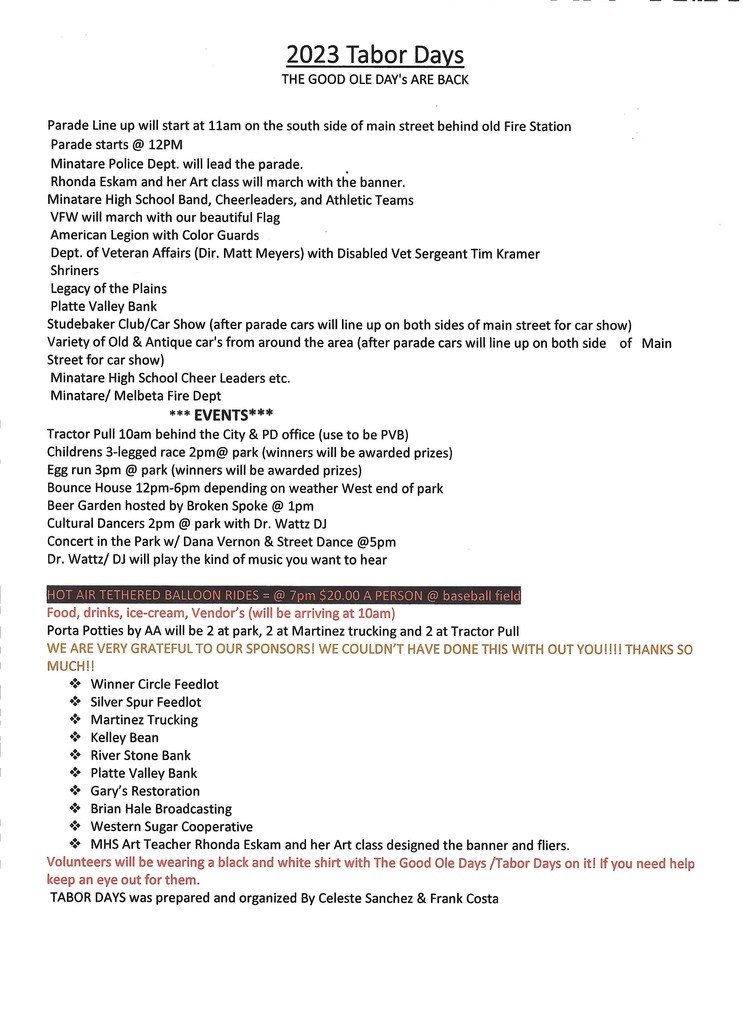 Hot off the press from previous years…. Minatare High school is currently selling the yearbooks that are pictures for the amazing price of $5 each! Please call the High School of you are interested and would like to come pick some up! 308-783-1733. Hurry they won't last long!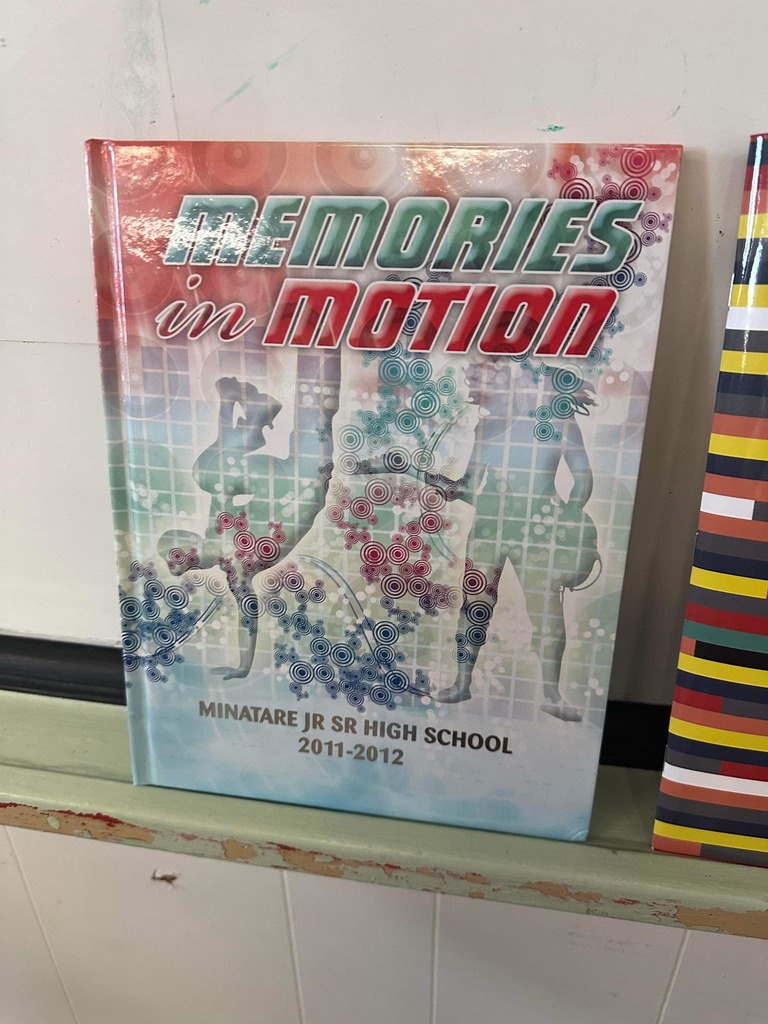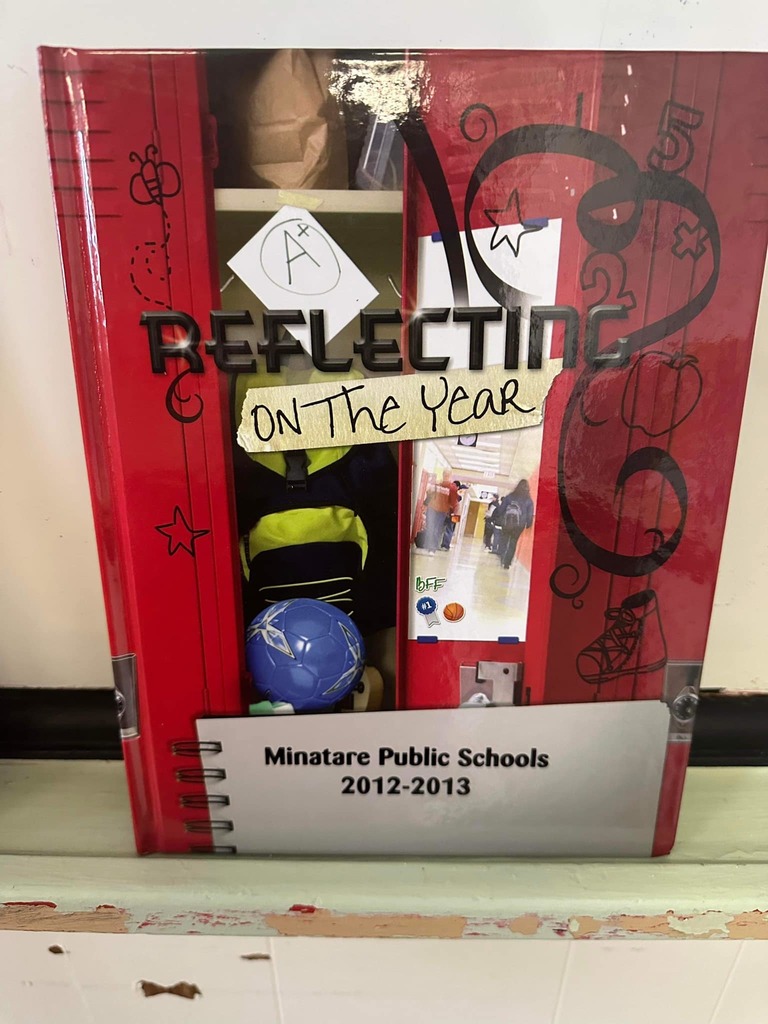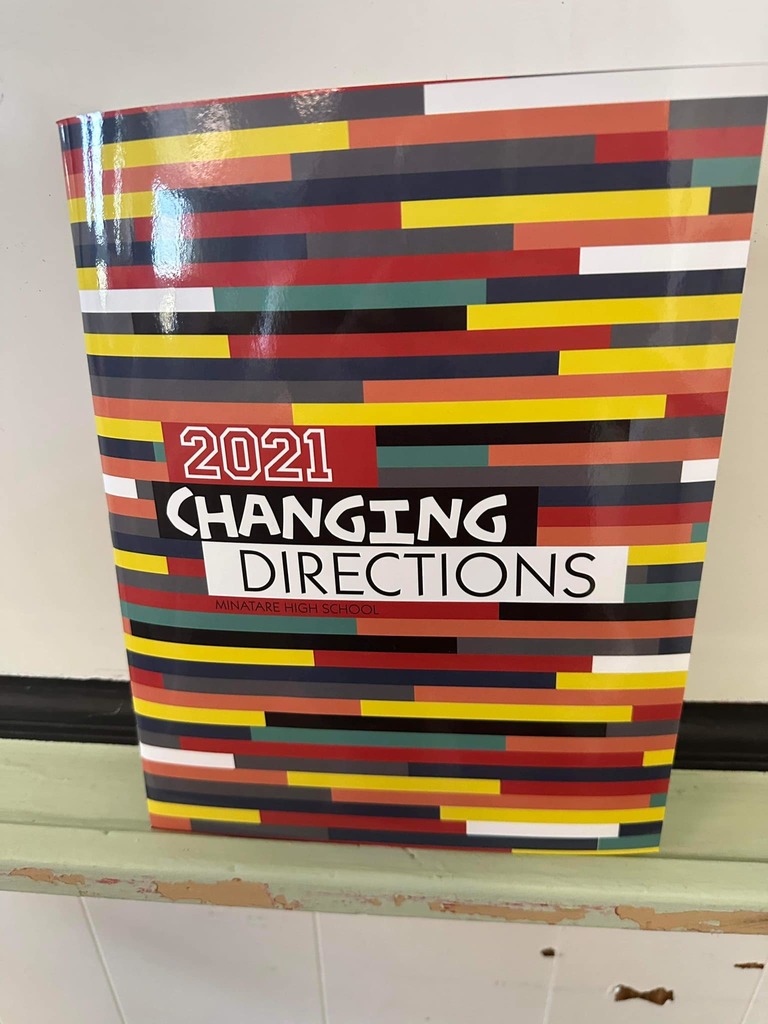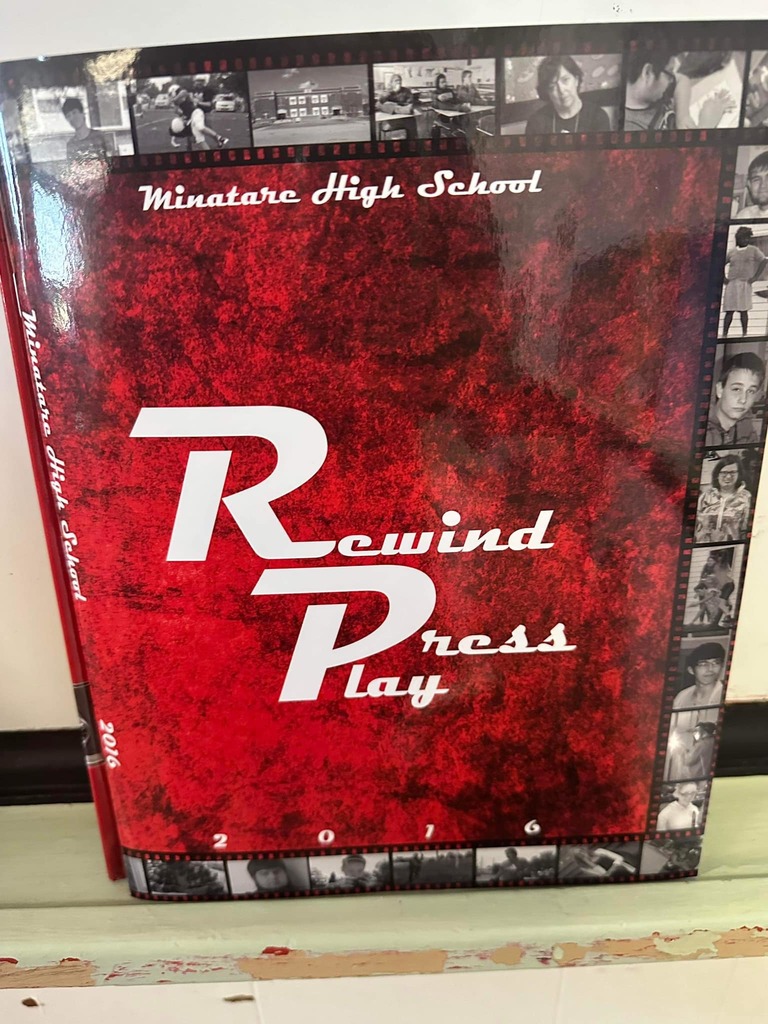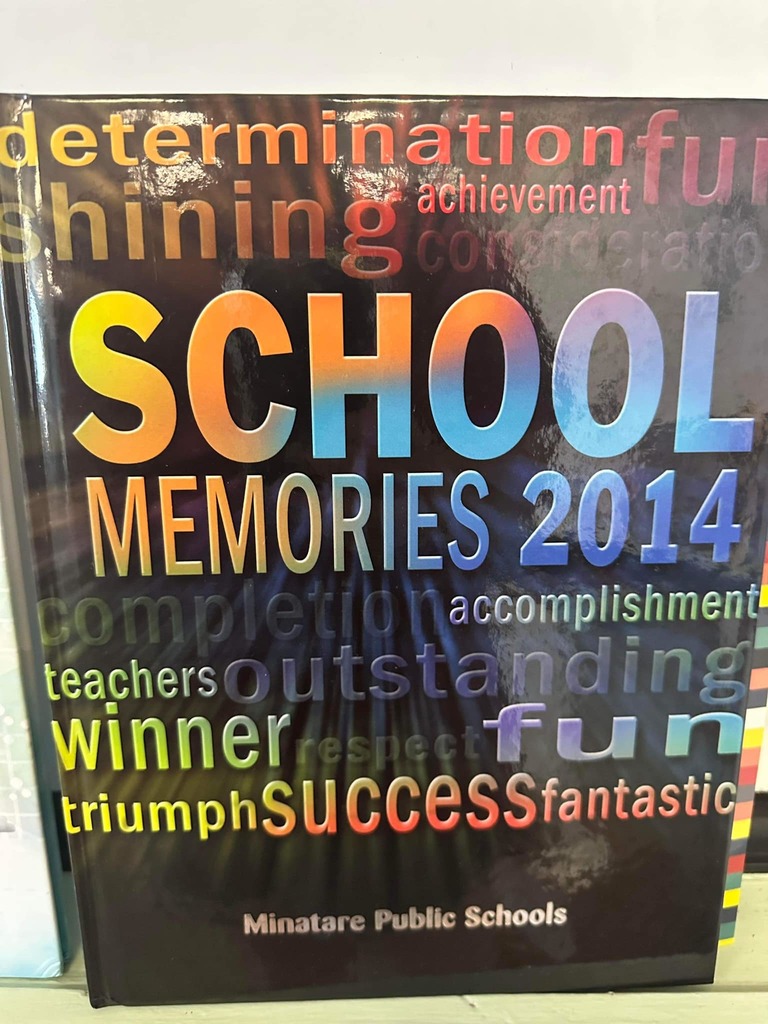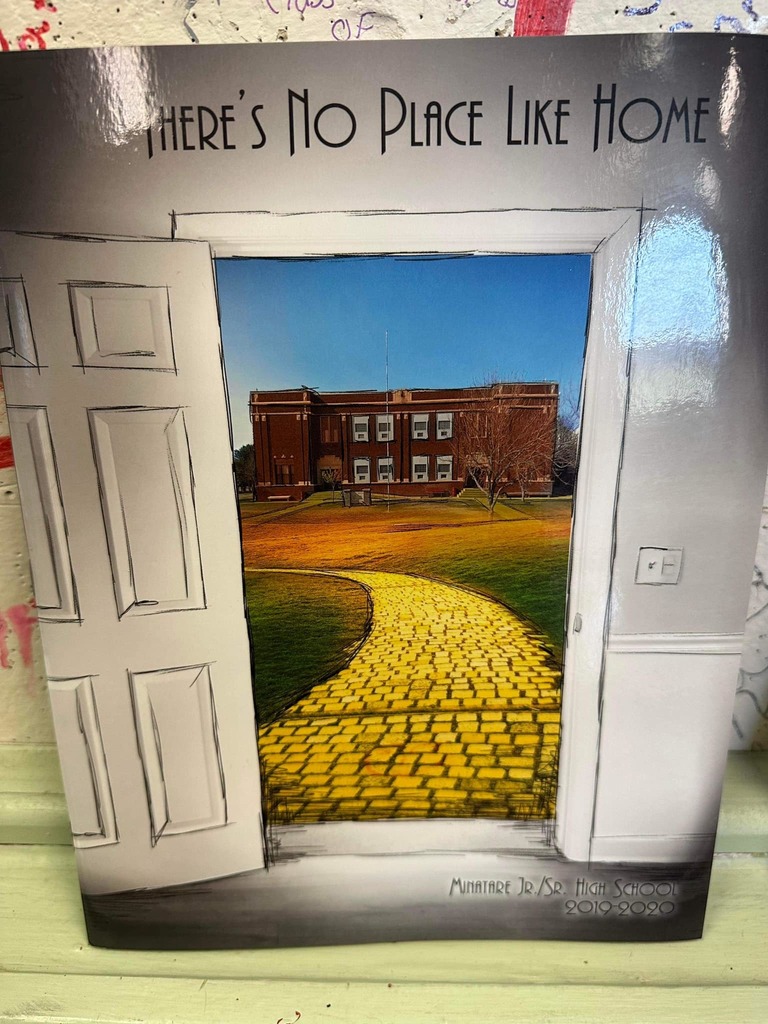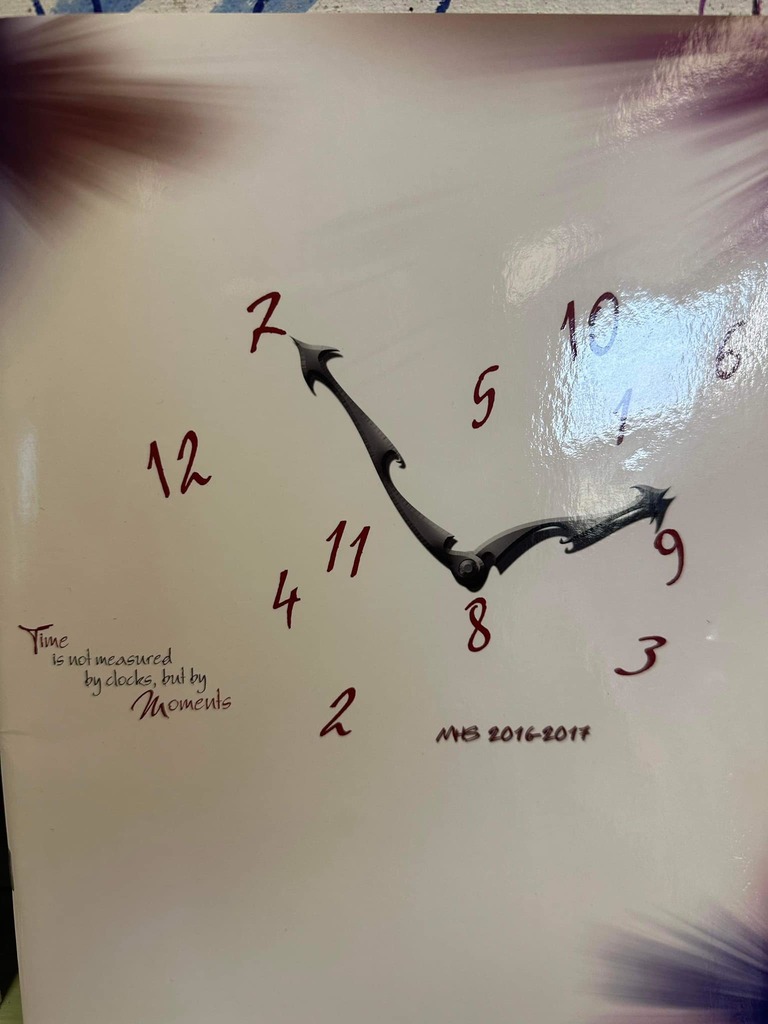 Hello friends. The Minatare Cheer Squad earned an amazing opportunity due to being awarded a Superior trophy at UCA Cheer camp. River, Jada, Yose, and Angelique have all earned the opportunity to perform at the 2024 Cheez-It Citrus Bowl Game in Orlando FL!! Included is the information in this post so you can see exactly how much money each girl needs to come up with and what the package includes. The trip is Dec 29-Jan 2nd and does not include airfare. However, it may be easier to pay for plane tickets out of pocket vs the package. Here's what is being asking. They need 200 total people (50 per cheerleader) to pledge/donate $20 each. IF I can achieve this, it will pay for almost the whole package for each girl. The girls will also do fundraising events to help, but this is the fastest and easiest way I as their coach can help. This is literally a once in a lifetime opportunity for these girls. You can see just how expensive Varsity has made this trip for the cheerleaders that earn it. For some families, it's not a big deal. But we know that most families do not have a spare $1000+ laying around. We want to help provide this awesome opportunity to represent MHS and Western Nebraska in front of 50,000+ spectators for the girls. If you can spare $20, please contact Darla Grumbles at
cheerrn@yahoo.com
. The girls and Darla will be forever grateful. For all that sponsor, your name or business will be added onto a banner that we will display at the football field and gym.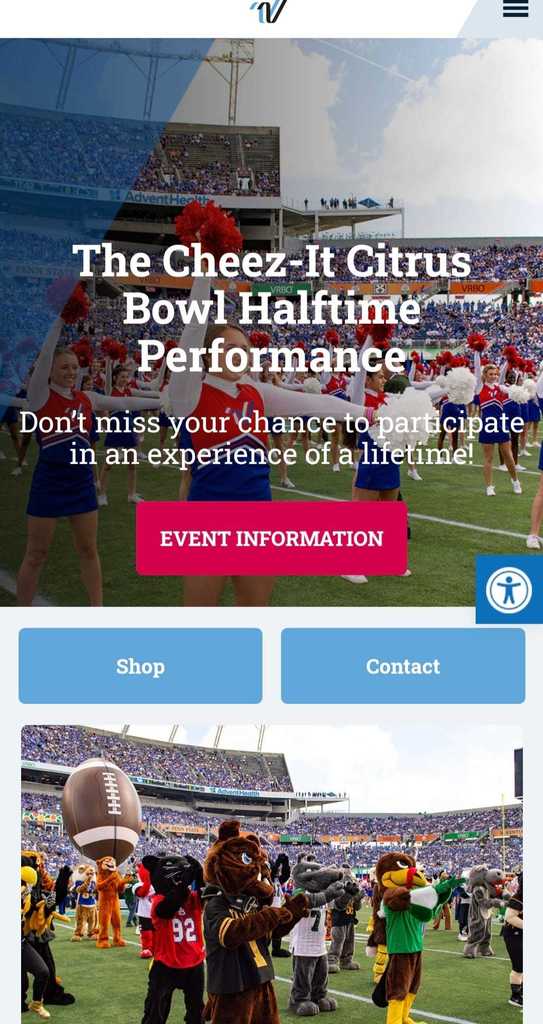 Come join the Minatare Library Summer Reading Program and win prizes!!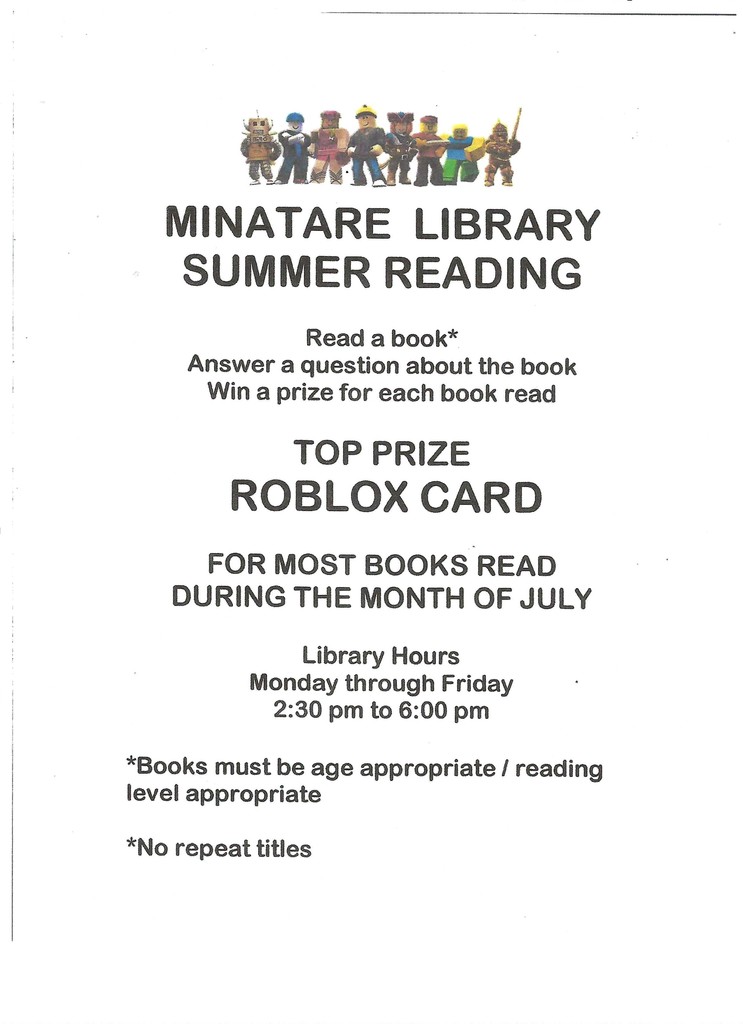 Happening Today! Don't miss out on the opportunity to get your school and sports physicals for free! Forms will be available at the office. Located at Regional West Physicians Clinic-Family Medicine 1275 Sage Street in Gering from 1:00pm-5:00pm. Again, do not miss this free opportunity. Students must be accompanied by an adult.

Today has potential for some pretty severe weather. Attached is a statement from the Minatare Public Schools Superintendent Mr. Robbins regarding the Safe Room/Tornado Shelter located at the High school. Stay alert and safe everyone!

Come join us in celebrating the retirement of Mrs. Teresa Shriver on May 18th @ 4:30PM in the Minatare Community Room located on Main Street in downtown Minatare.