Come join Minatare Pre-Start!! Registration days will be August 2nd, 4th, 5th, 11th, 12th, 15th, & 16th from 9:00am to 1:00pm. Please bring birth certificate, immunization records, pay stubs (if applying for a Head Start spot) physical, eye exam, and dental exam. There are Scholarships available! Come reserve your spot! Pre-Start classes start August 22nd. See you soon!!

Free Sports Physicals. Minatare Athletes starting grades 8-12 Wednesday, July 13| 5-7PM At Family Medicine Clinic 1275 Sage Street Gering Athletic physical forms will be provided. Students must be accompanied by a parent or guardian


Minatare Volleyball Youth Camp, begins tomorrow 3:30 to 5:00 M-F. This camp will train all basic skills, teach footwork, ball control and play fun games all week!

What an amazing All Star Game in Sutherland! MAC lost by 2 points! These student athletes all played amazing! Superb job by our Home Town players, Kale Gibbons, Fred Torres, and Joe Gomez! You were all awesome to watch!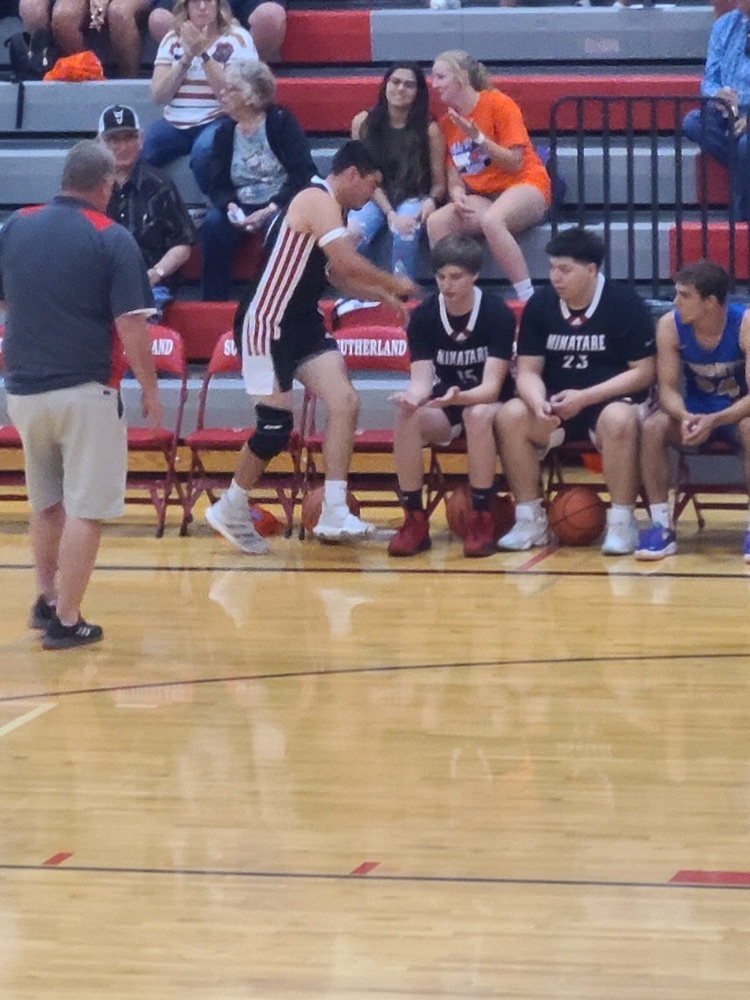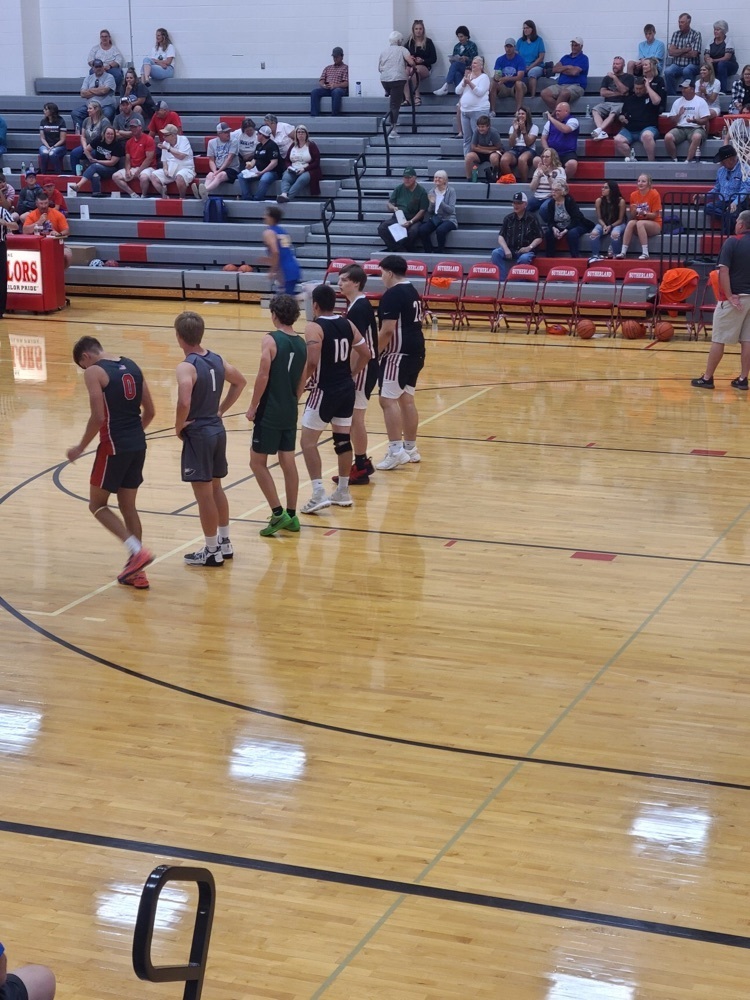 Good Luck to recent graduates Kale Gibbons, Fred Torres, and Joe Gomez as they travel to Sutherland for the MAC All Star Basketball Game in Sutherland, Friday June 17th at 7PM. Good Luck boys and Congratulations on representing Minatare Schools. The girls game will tip at 6 p.m. central time with the boys game to follow. The June 17th games will be broadcast on KBBN 95.3 FM and kbbn.com. A live video stream of the games, accompanied by the radio call, will be available on the Sandhills Express facebook and you tube page as well as on Twitter (@KBBNsports).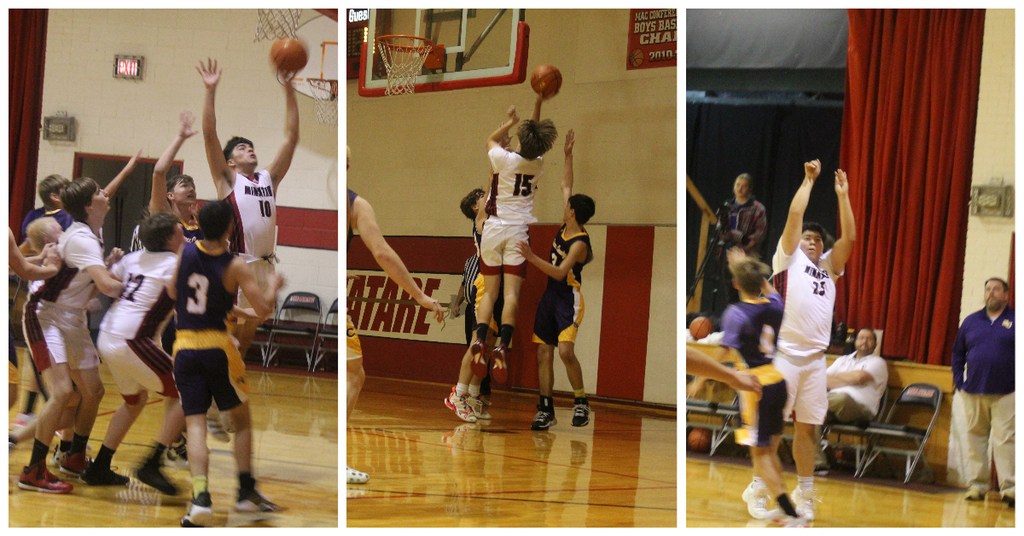 Good Luck on Saturday June 11th to Minatare High School recent Graduate Joe Gomez #18! We are exited for you and super proud! West Nebraska All-Star week is underway. West football team photo.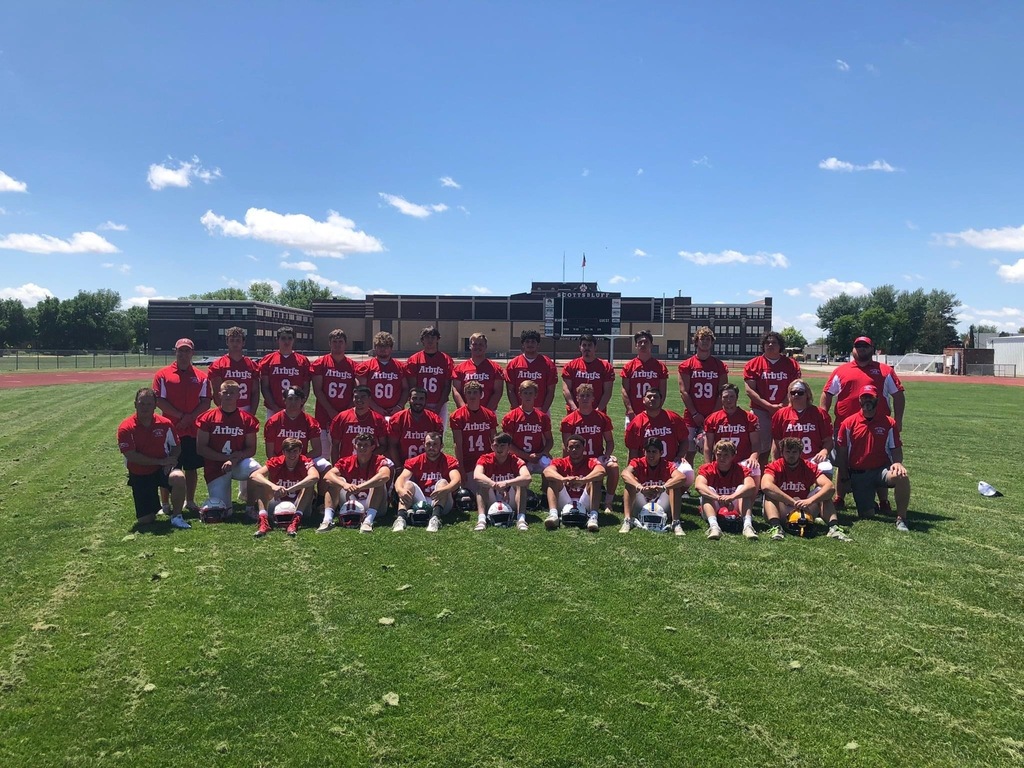 Good morning Minatare Elementary Families, Due to the 70% chance of rain today, the decision has been made to move the track and field day to Wednesday afternoon. We will then move the Cinema Day to Wednesday morning.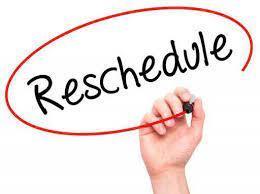 Summer Driver's Education June 6-10, 2022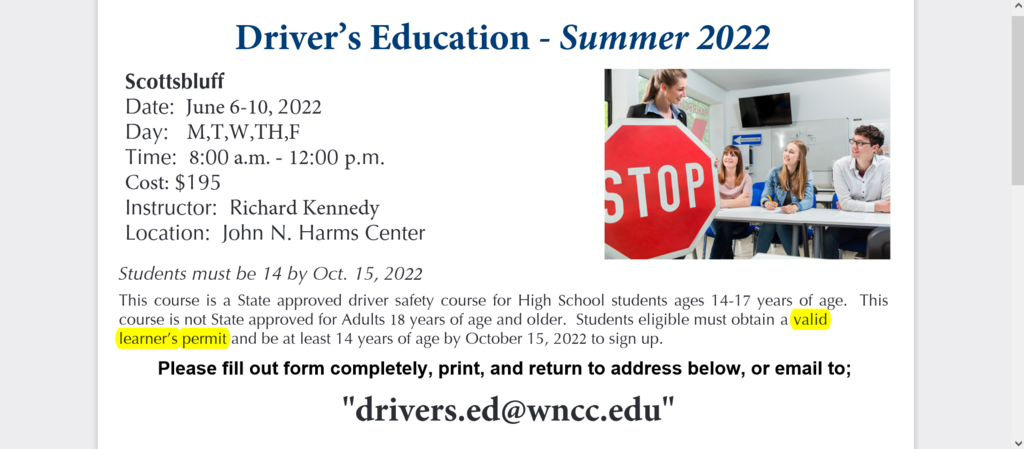 Minatare Elementary has a new sign out front!! We are so excited to show off the New sign at Minatare Elementary that was made by the Minatare High School FFA welding team. They did an amazing job for us. We are so proud to show off such beautiful work! The Welding team participants are Corina Meyers, Dakota Taylor, Jordyn Taylor and (not pictured) Norval Pacheco. Thank you all again for your beautiful work!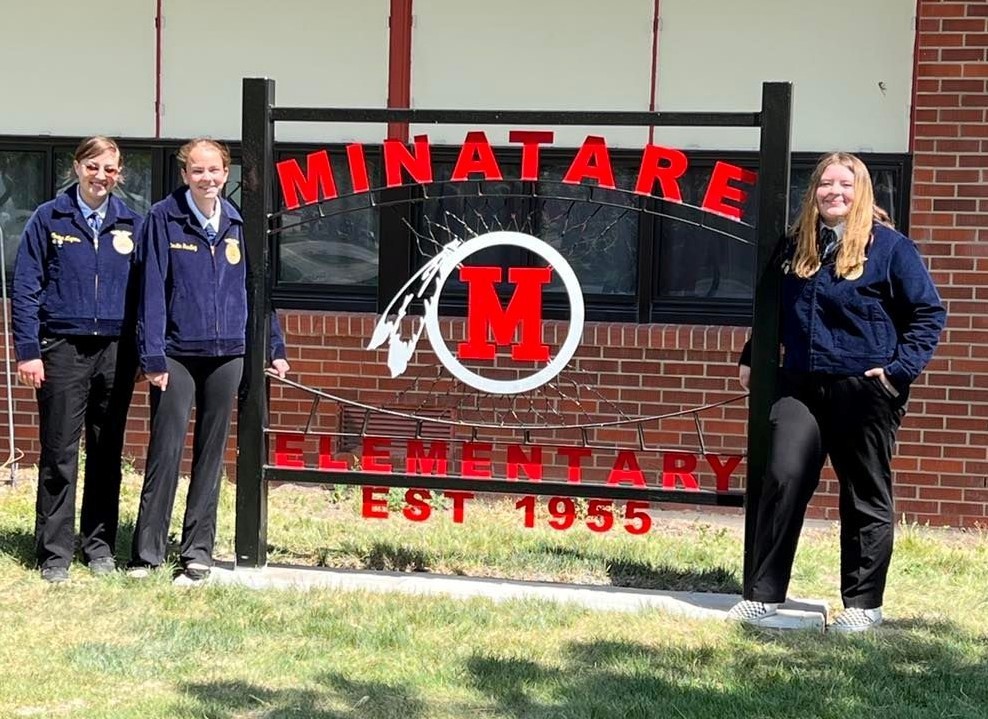 Congratulations to Minatare High School Seniors: Corina Meyers, Cheyanne Taylor, Alicia Gutierrez, Norvel Pacheco, Aliyah Lovato, Federico Torres, and Kale Gibbons for receiving the Dan D Booth Trust Scholarship. And Congratulations to former Minatare graduates who will continue to receive the Dan D Booth Trust Scholarship: Raschelle Magdaleno, Haydon Olds, Yesenia Ramirez, and Araceli Garcia. We are so Proud of all of these students Present & Past. Those are some amazing numbers!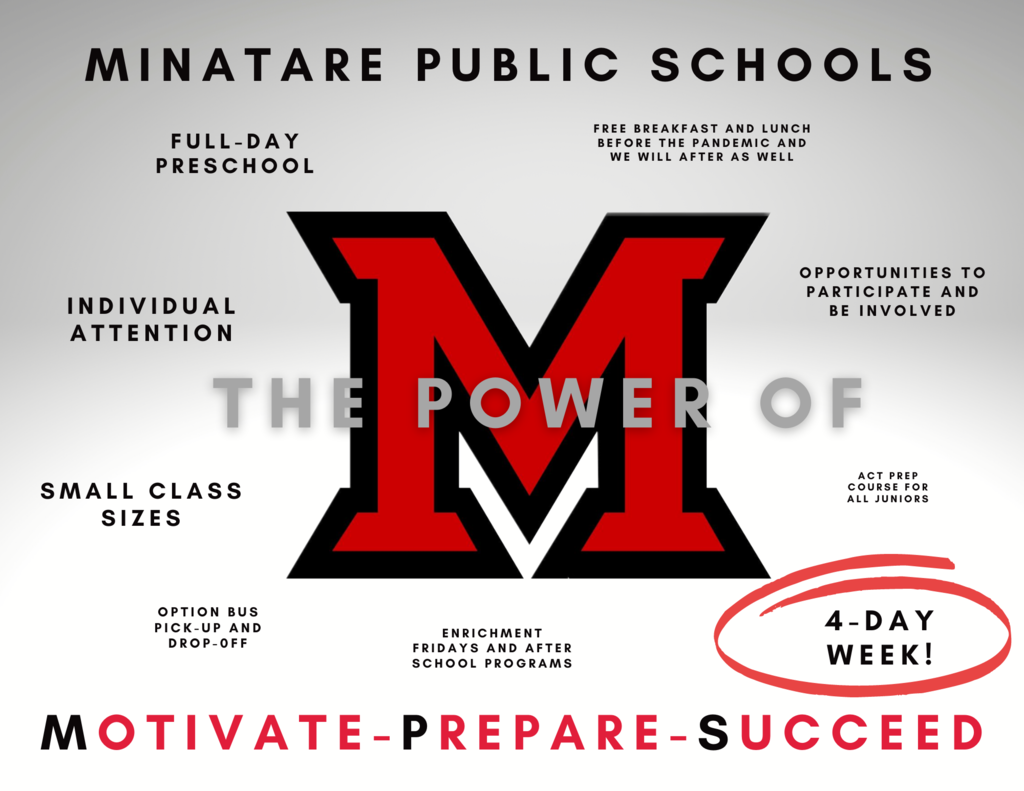 The Power of M. We invite you to check out and see what Great things Minatare has to offer you and your family.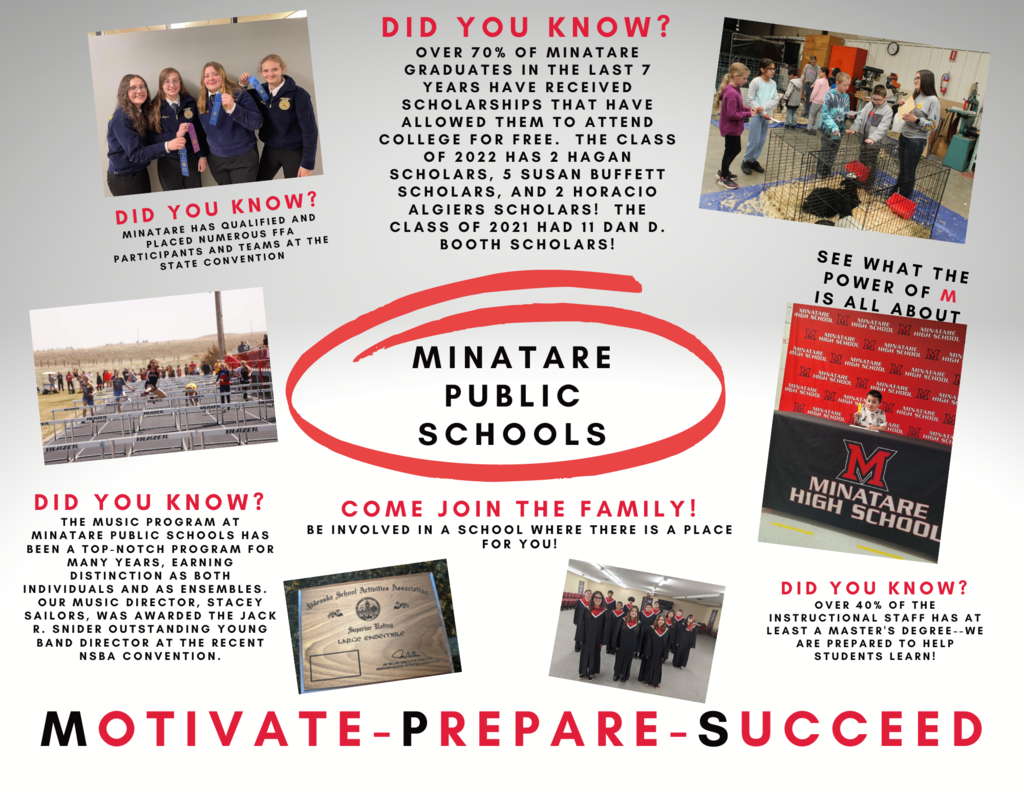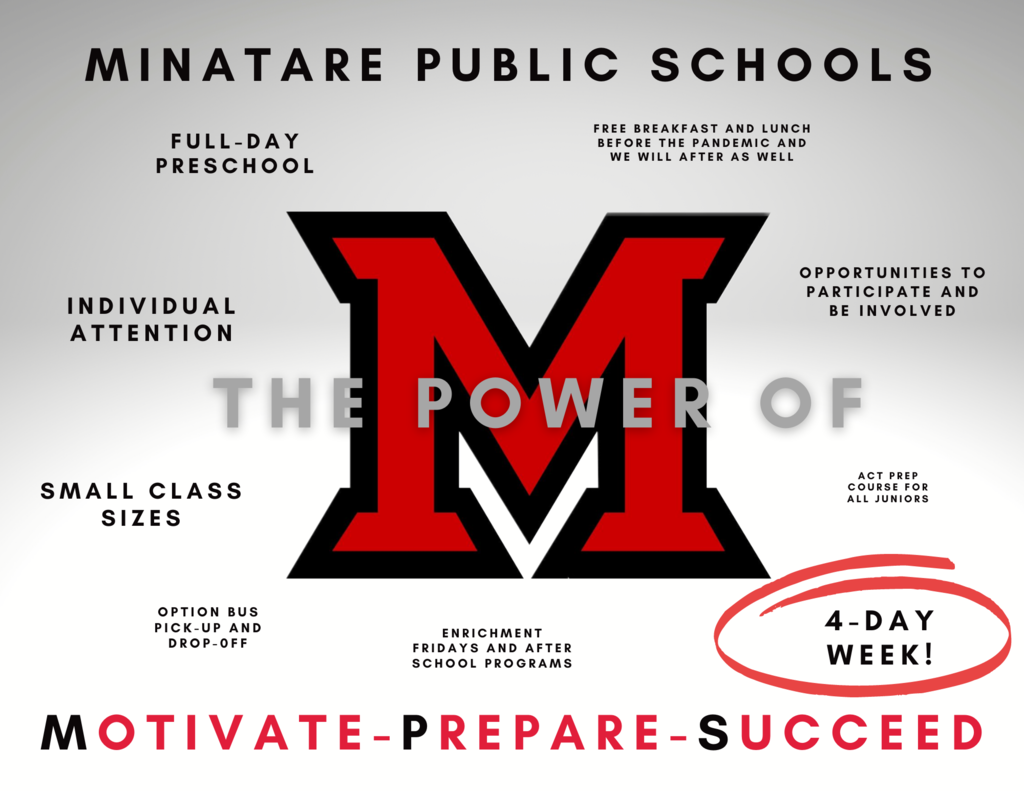 Summer School and Summer Food Service will begin on May 31st and run through June 30th. The Summer Food Program is FREE to all children to the age of 18. Adults can join for $3.75. Breakfast is served from 7:30AM-8:00AM Lunch is served from 11:30AM-12:00PM 805 7th Street Minatare, Ne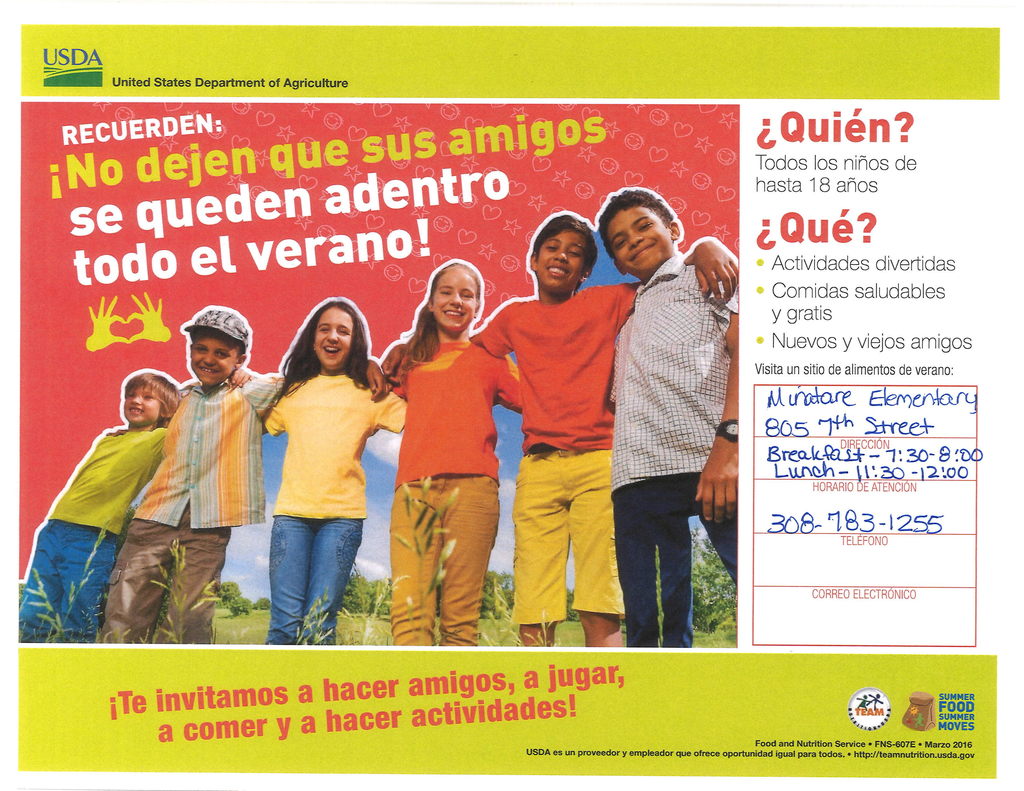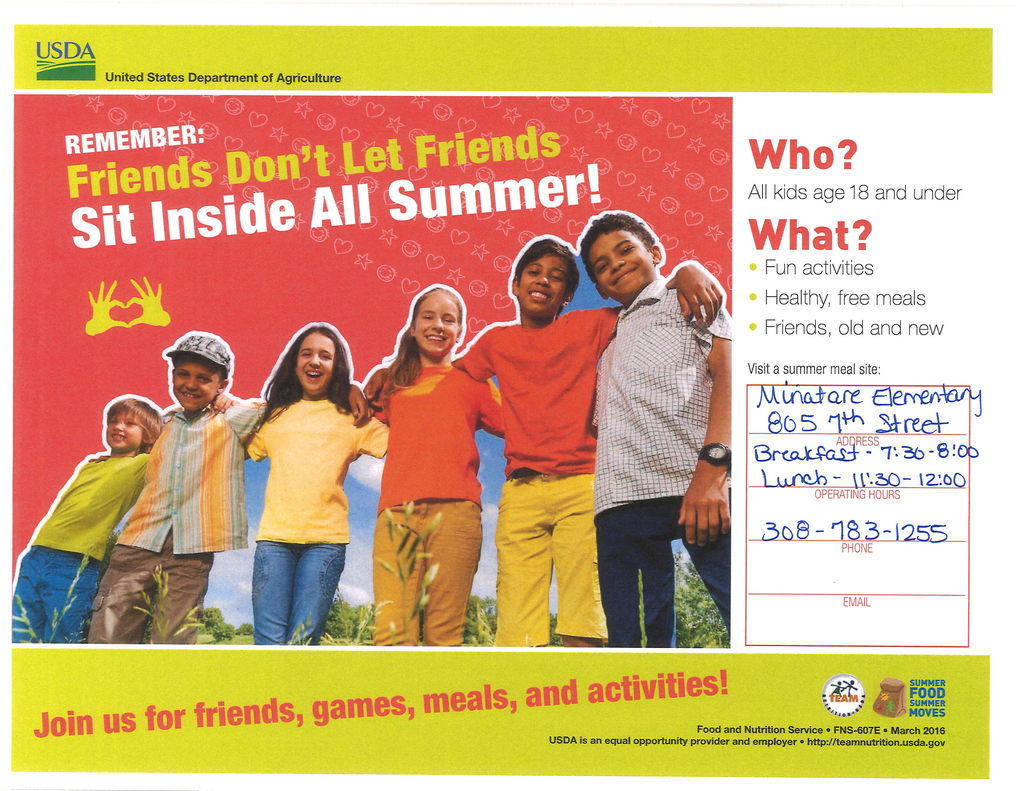 Minatare Juniors & Seniors celebrated at the Mystery Masquerade on Saturday April 23rd. Prom was sponsored by the Junior Class and and Class sponsors: Mrs. Eskam, Mrs. Robbins and Ms. Alvord. The participants enjoyed a delicious dinner of homemade enchiladas, rice, beans and pork chili, followed by the Grand March, Pictures, crowning of the Royalty and dancing. They finished out the evening at the After Prom Party in Scottsbluff at X-Treme fun sponsored by the Minatare Booster Club. Thank you to everyone for making it a huge success. Prom Royalty 2022: Prince: Anthony Benavides Princess: Ashlyn Lopez Queen: Alicia Gutierrez King: Federico Torres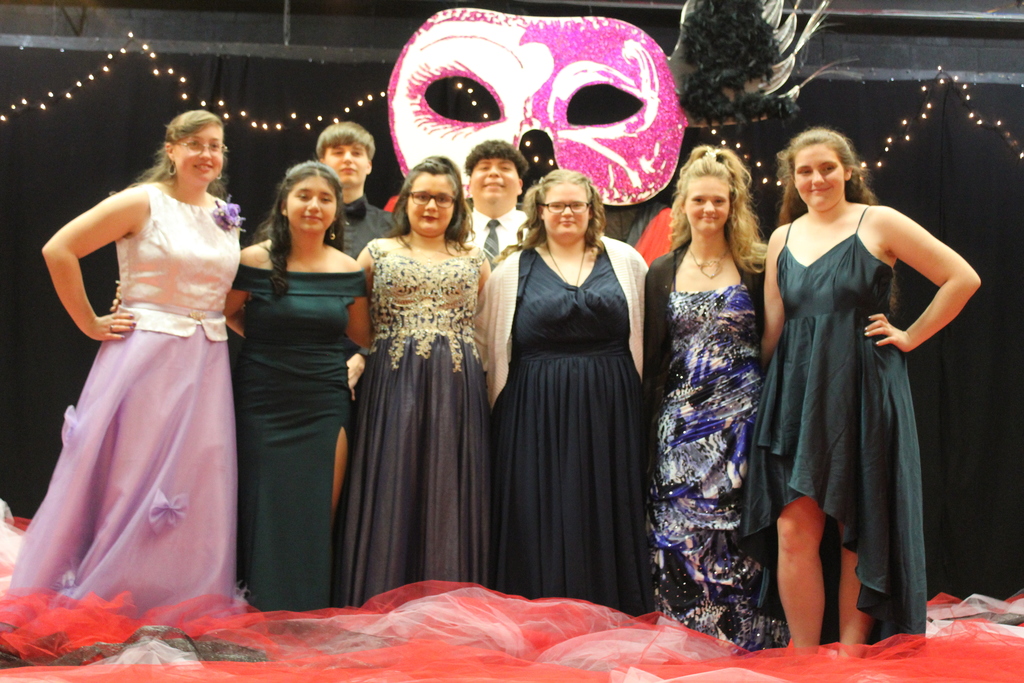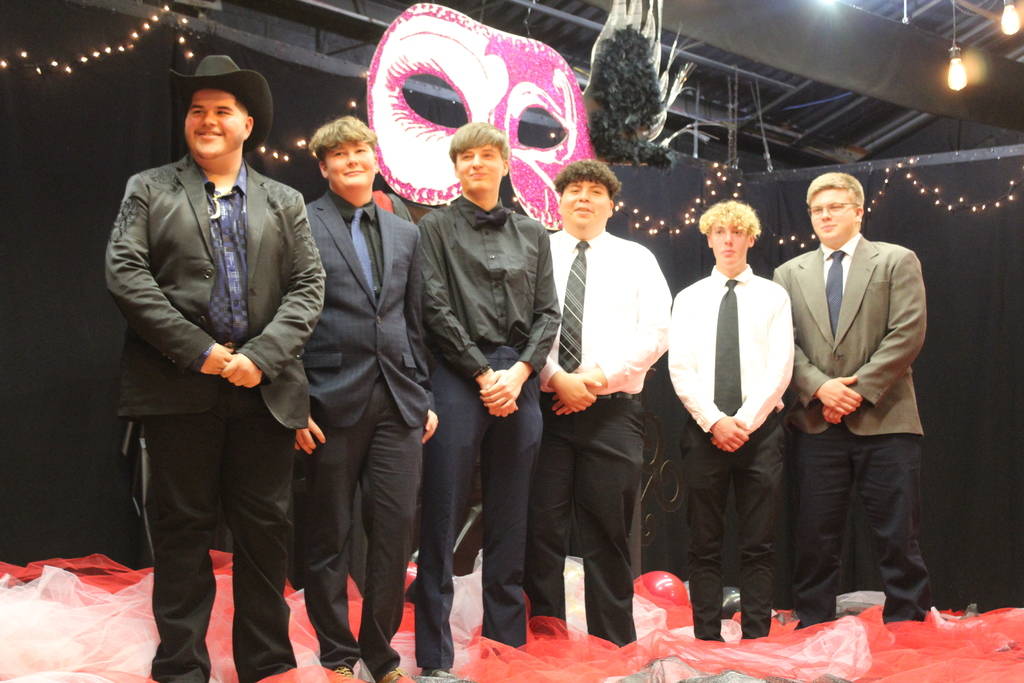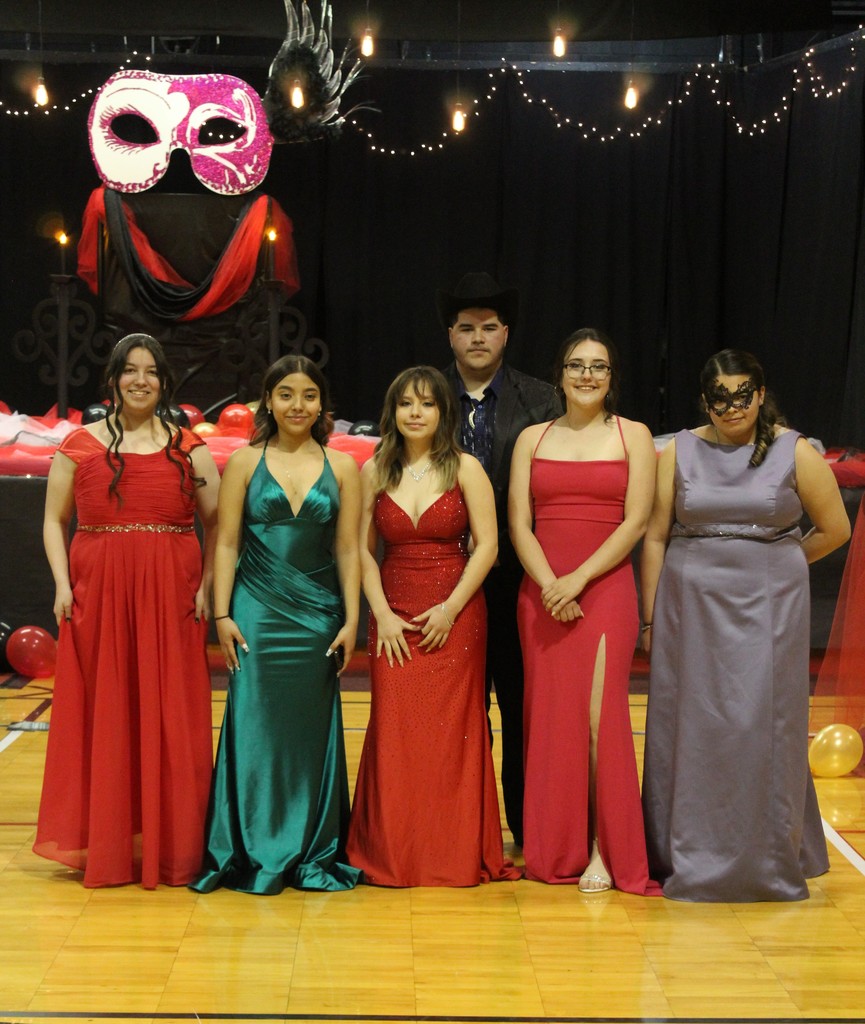 Minatare musicians had a successful day at District Music Contest! The Minatare Band was awarded a plaque for receiving 3 straight superior ratings from all 3 judges! Instrumental Minatare HS Band: superior rating Corina Meyers & Jordyn Taylor-Lopez snare drum duet: superior rating Jackson Schwartz tenor sax solo: superior rating Brisa Cole trumpet solo: superior rating Federico Torres trumpet solo: superior rating Jackson Schwartz & Aaron Suhr trombone/tenor sax duet: excellent rating Vocal Minatare HS Choir: excellent rating Alicia Gutierrez & Tanya Montgomery vocal duet: excellent rating. Congratulations to all of our Super Talented Musician's & Mrs. Stacey Sailors. Aramis Benavides Brisa Cole Jesus Cuellar Kiley Grumbles Trisha Grumbles Corina Meyers Jackson Schwartz Aaron Suhr Jordyn Taylor-Lopez Federico Torres Yvonne Kreiling Yoselin Reyes Lluvia Calihua-Gonzales Angelique Camargo Logan Gomez Alicia Gutierrez Dionicio Hernandez Ashlyn Lopez Corina Meyers Tanya Montgomery Angelika Owens Jay Peterson Dabiel Salado Melanie Valdez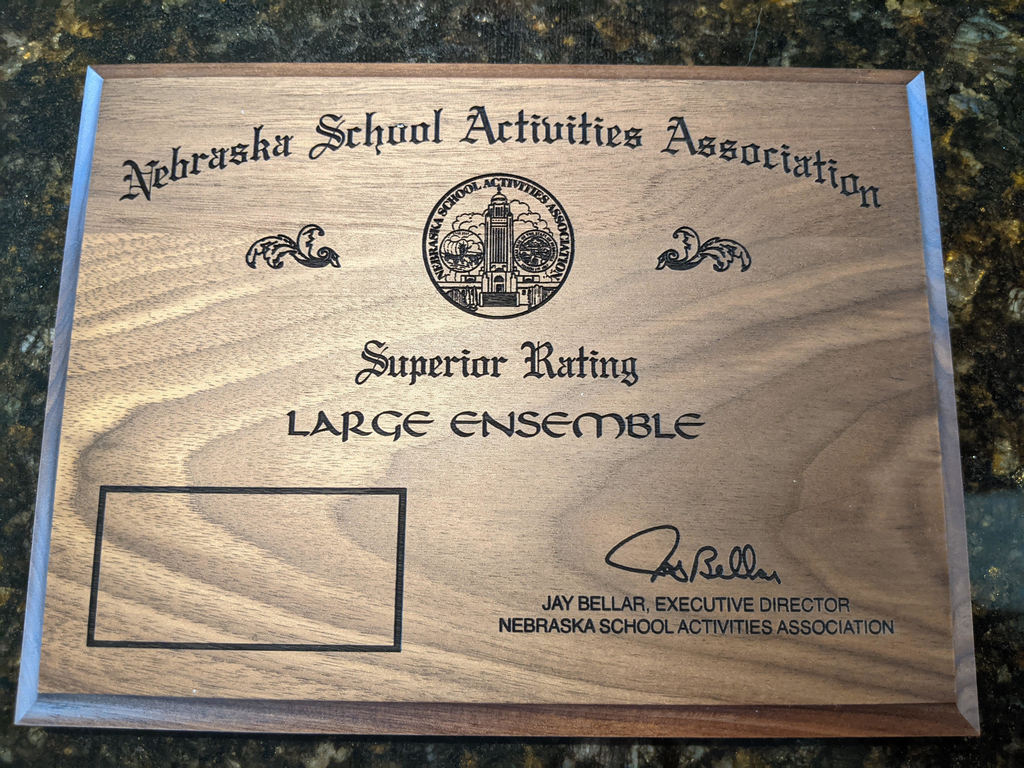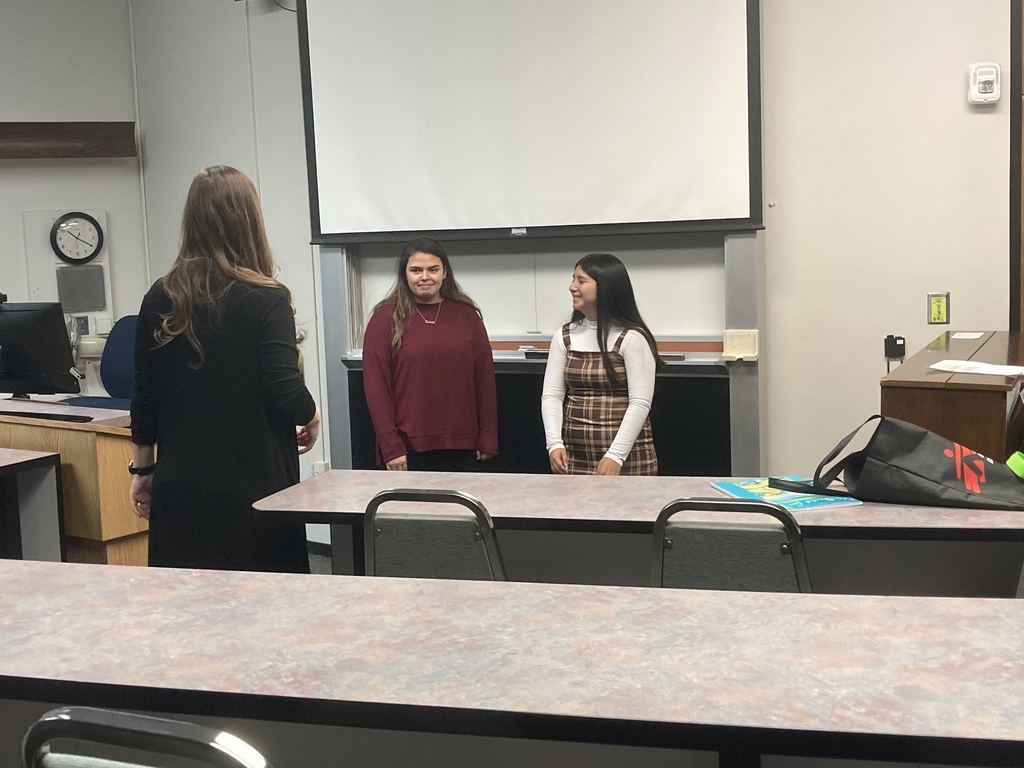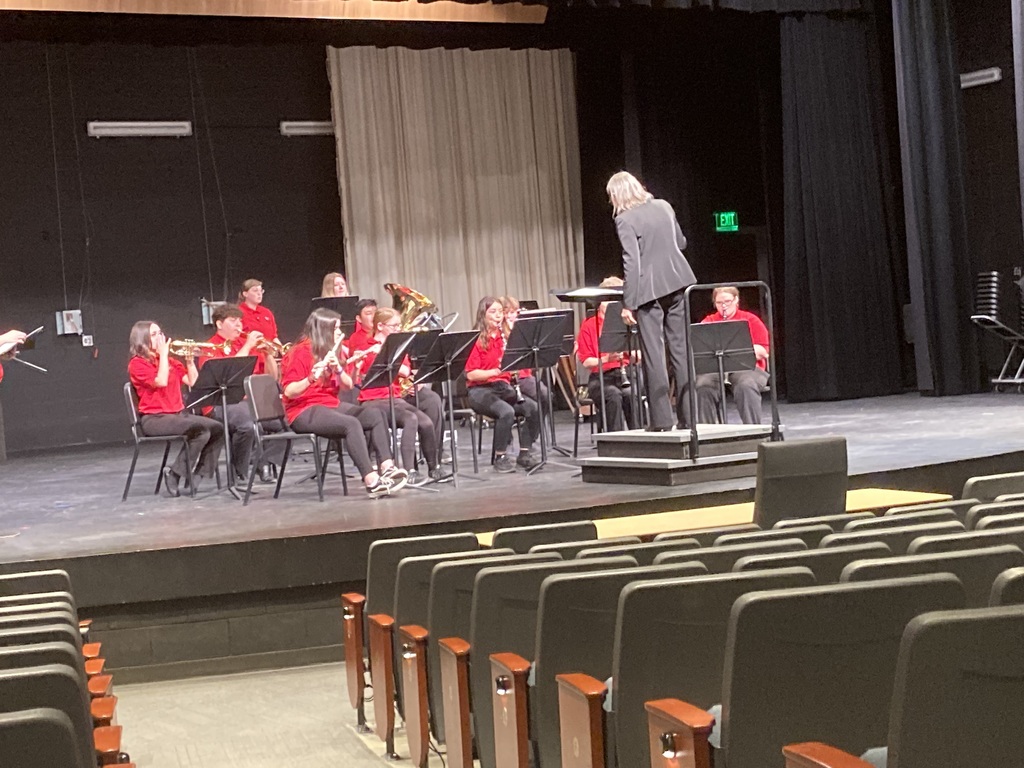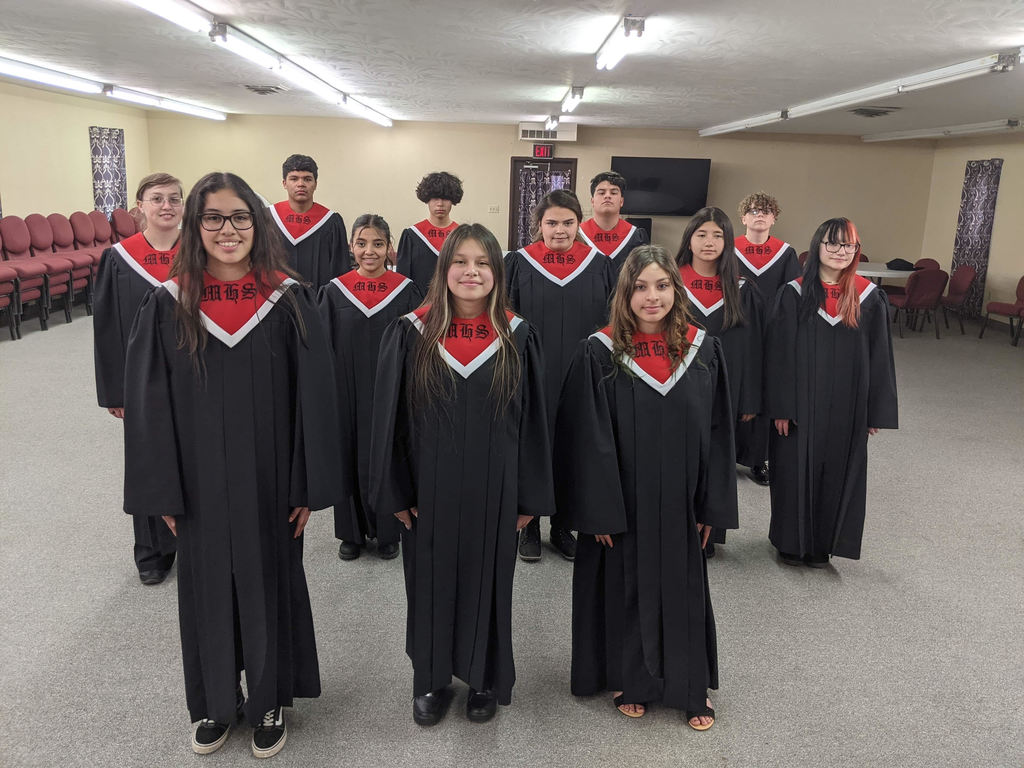 Minatare Junior High Track athletes competed in Kimball today! Despite the raging Nebraska winds, Yoselin Reyes placed first in the 100 meter hurdles. Congratulations Yoselin and to all the athletes. Photo credits: Mrs. Julie Lacy Thank you Julie for the amazing shots!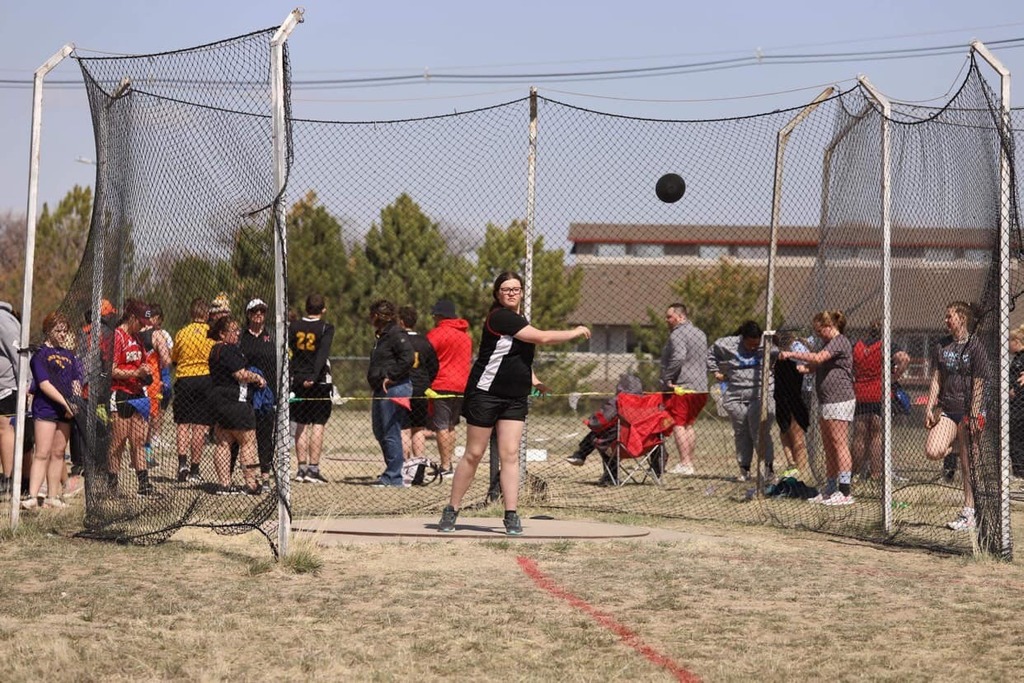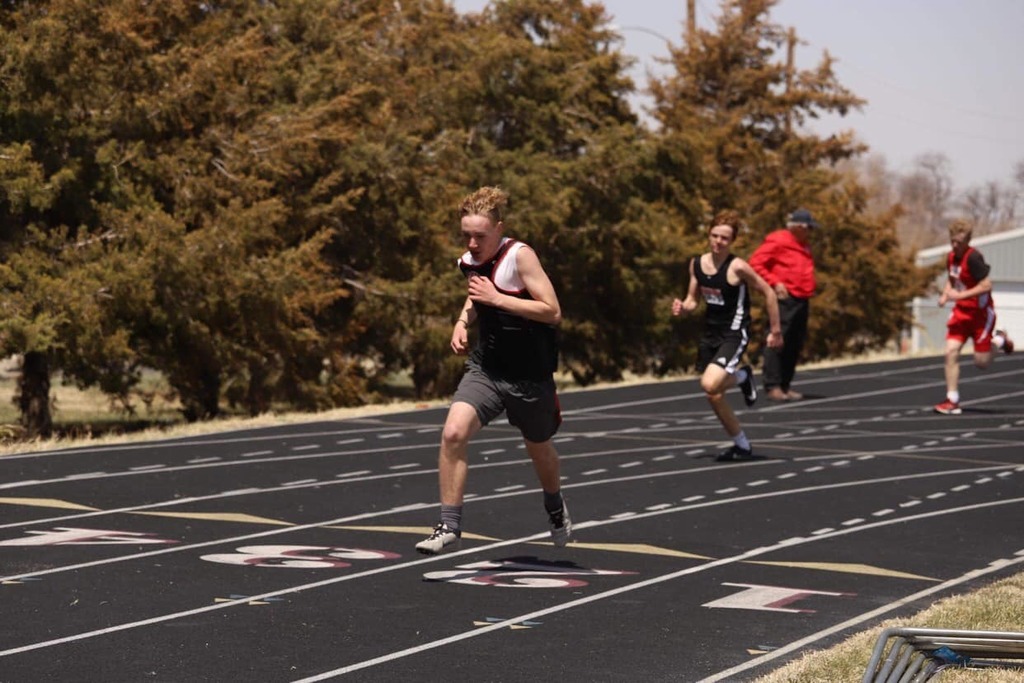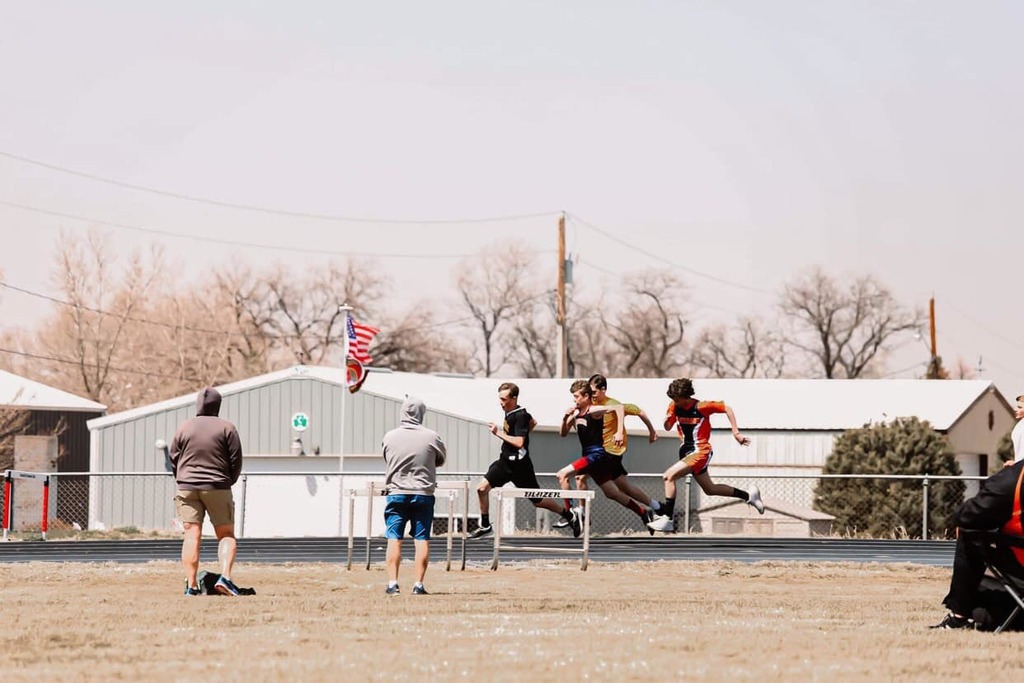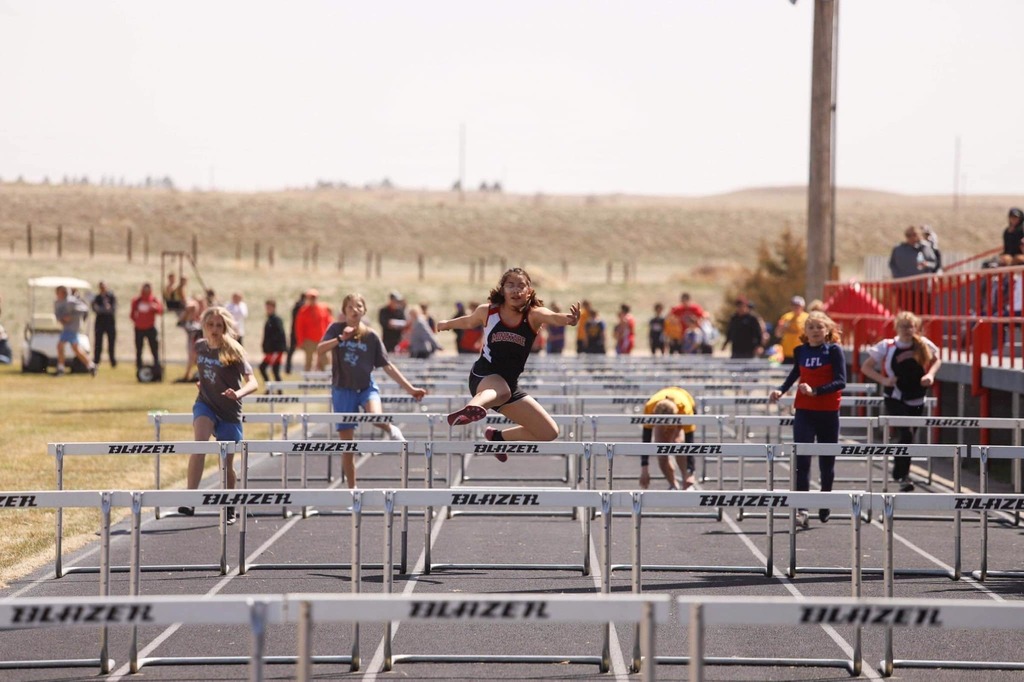 Minatare FFA held their Annual FFA Petting Zoo today. Each Class from the Elementary was allotted a time slot to walk to the High School, learn some fun facts and get stamps on their cards for each animal they saw. Special Thanks to everyone that brought their animals in for this activity. Norvel Pacheco, Corina Meyers, Kiley Grumbles, Brisa Cole, Dakota Taylor, Miah Garza, Jordyn Taylor-Lopez, Jackson Schwartz, Aaron Suhr, Cassiana Gutierrez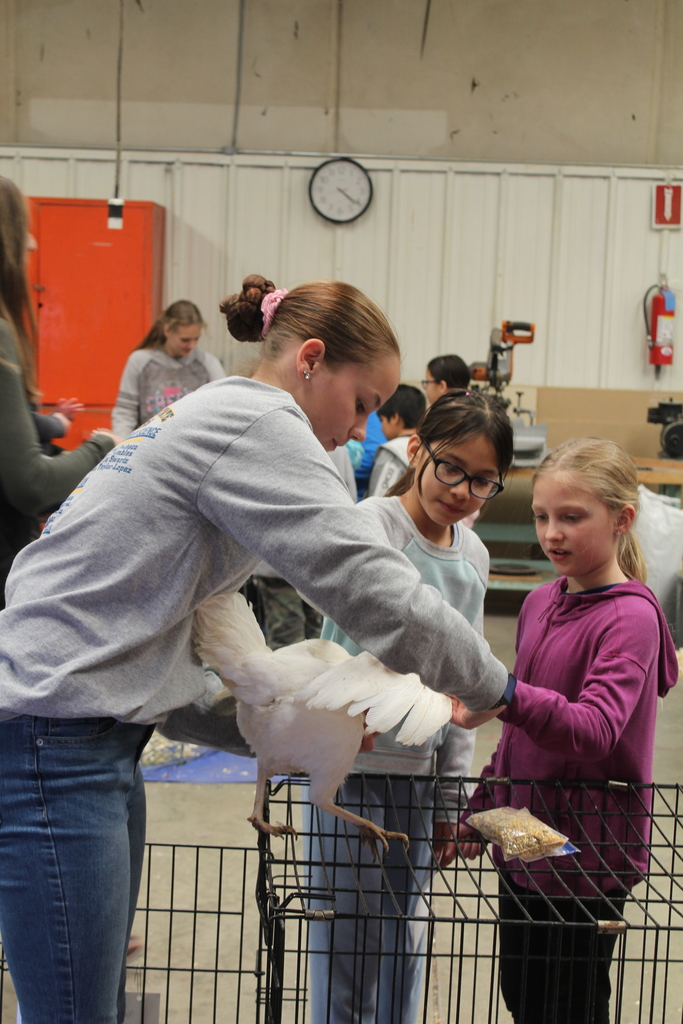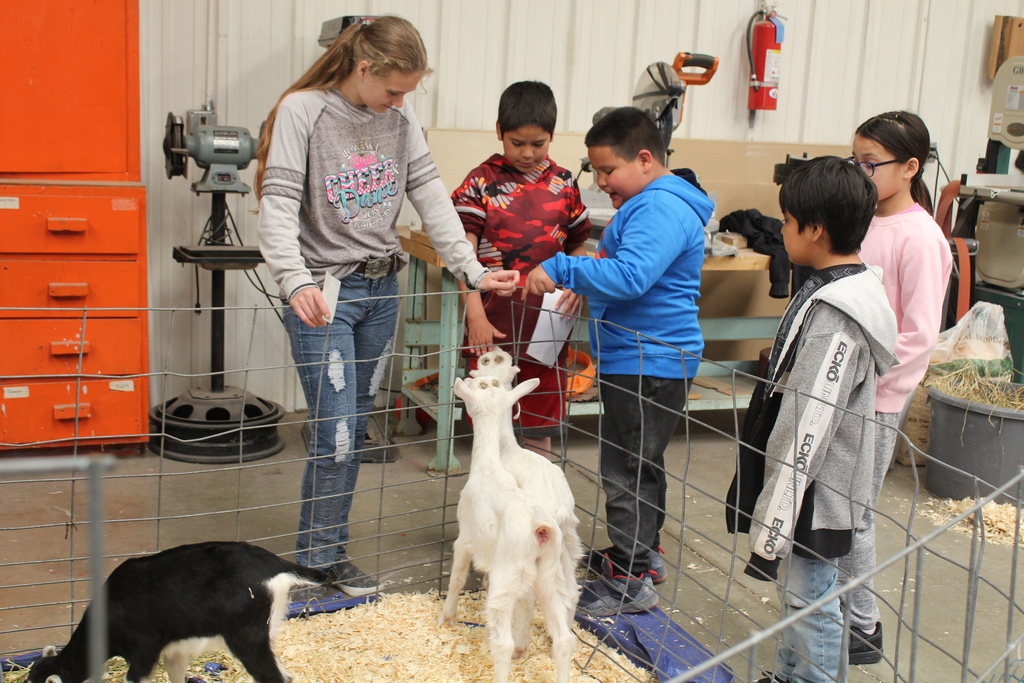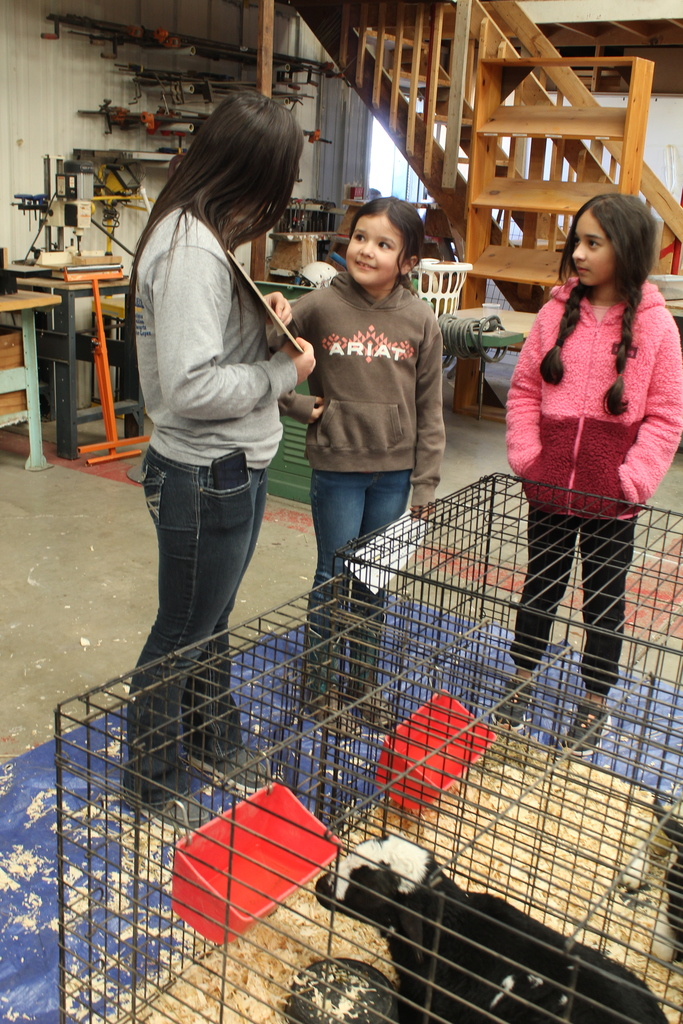 Come on down to the KNEB Spring Show at the Weborg 21 Center on Saturday, April 30th and look for the Minatare Elementary Booth. We will be having Open Enrollment for our Pre-Start Program and Kindergarten. Both Programs require a copy of the State issued Birth Certificate (Pre-Start can accept the hospital Birth Certificate), Physical Exam, Vision Exam, and an up to date Immunization record. Pre-Start also needs a Dental Exam. These Items are not required on April 30th, but they are required to start the school year. So come on down and see Mrs. Wolf and get a head start on filling out the paperwork and learn more about Minatre Pre-Start and Kindergarten.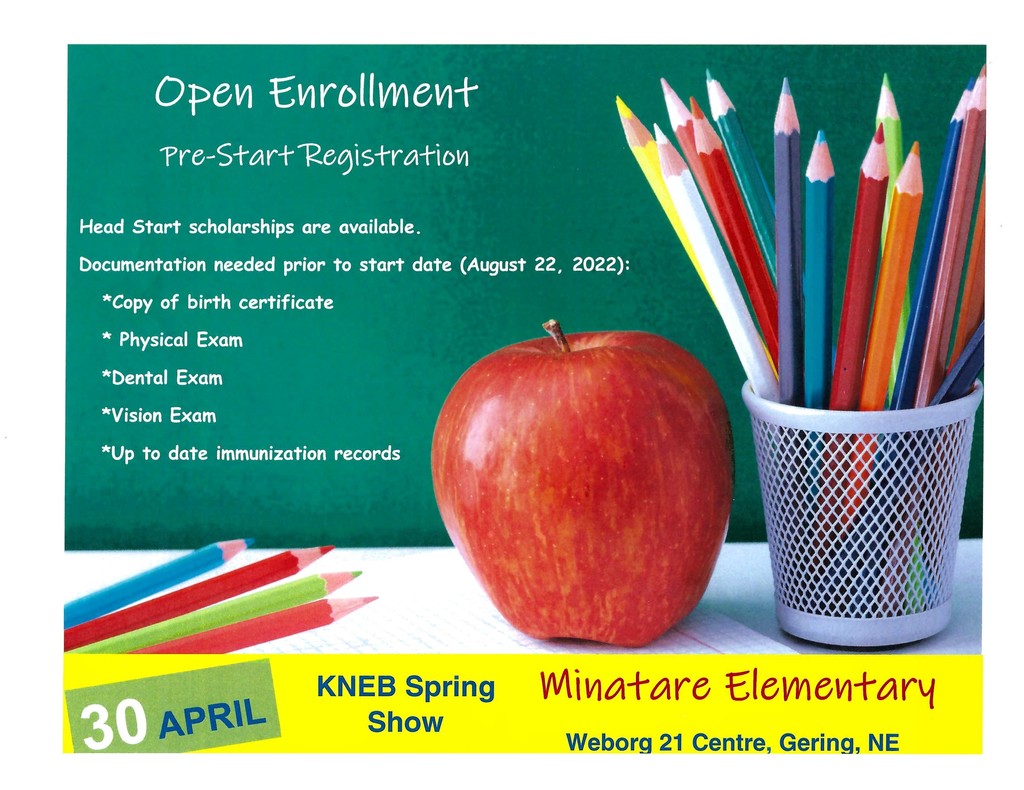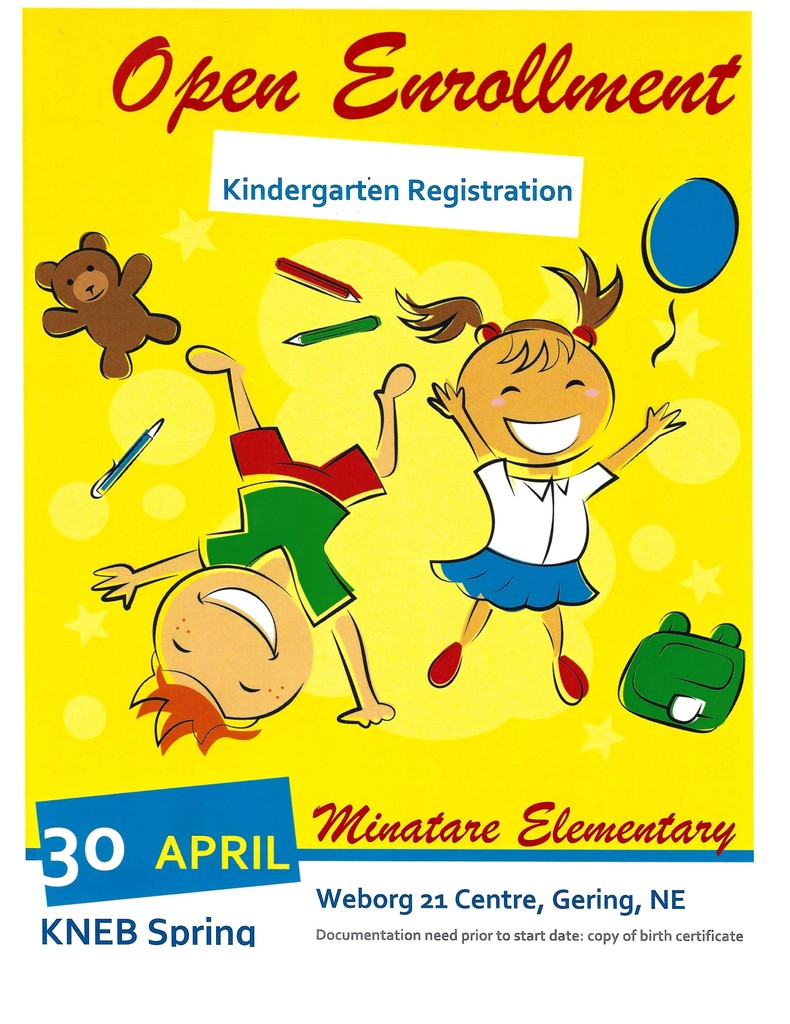 No School for Grades Pre-k through 12 Friday April 15th and Monday April 18th. Have a safe and Happy Easter.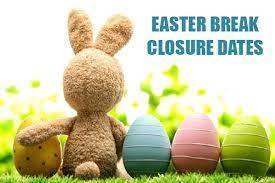 On April 7th, Minatare Public School held it annual Title 1 Spring Bingo. It was another great year of Parents/Guardians, Students, and Community Members getting together for some fun and wonderful prizes of Hams, Turkeys and amazing baskets with wonderful gift cards donated by our Adopt A School Partner Platte Valley Companies! A big thank you to all that came out and joined us and to all who help bring it together!!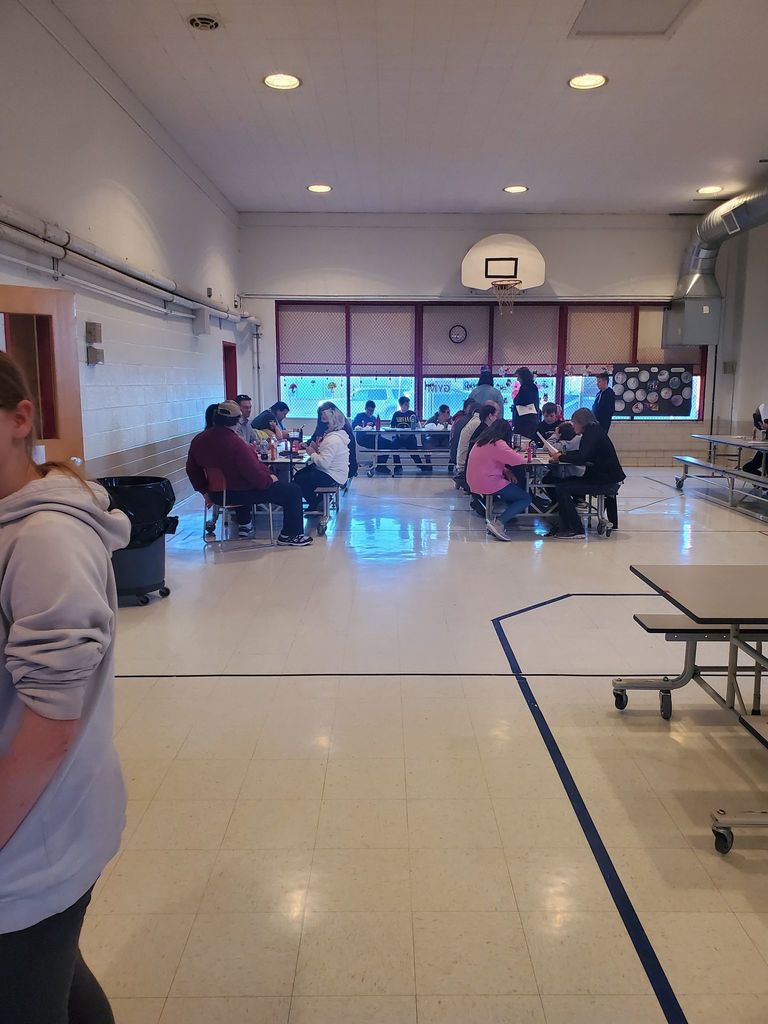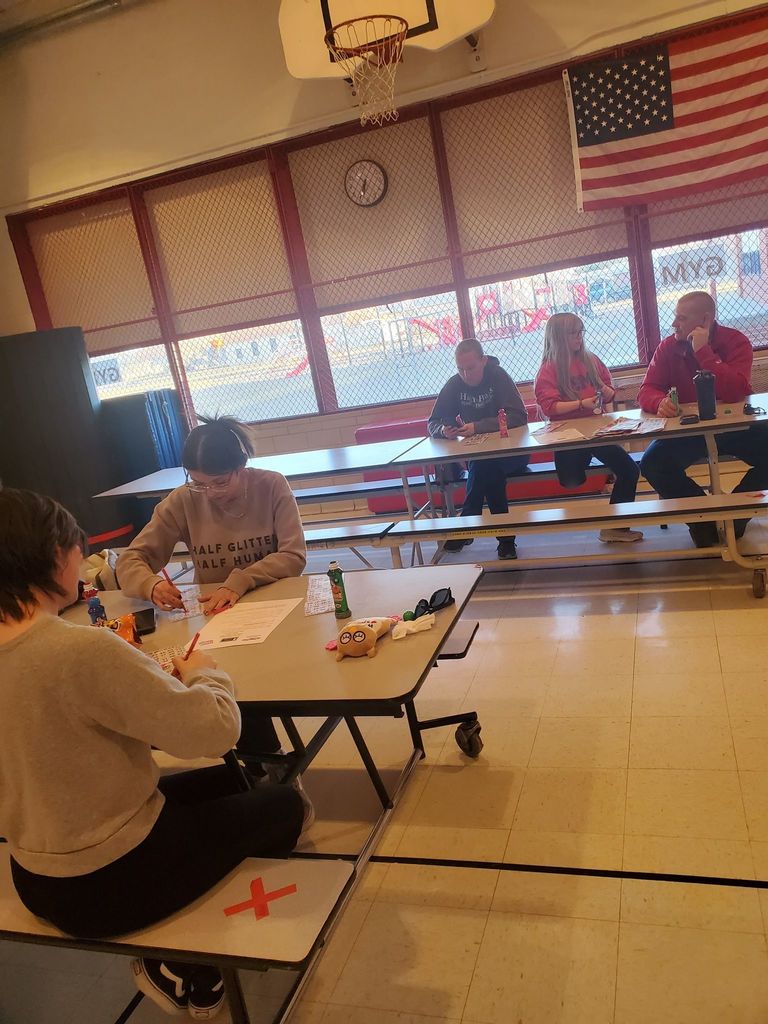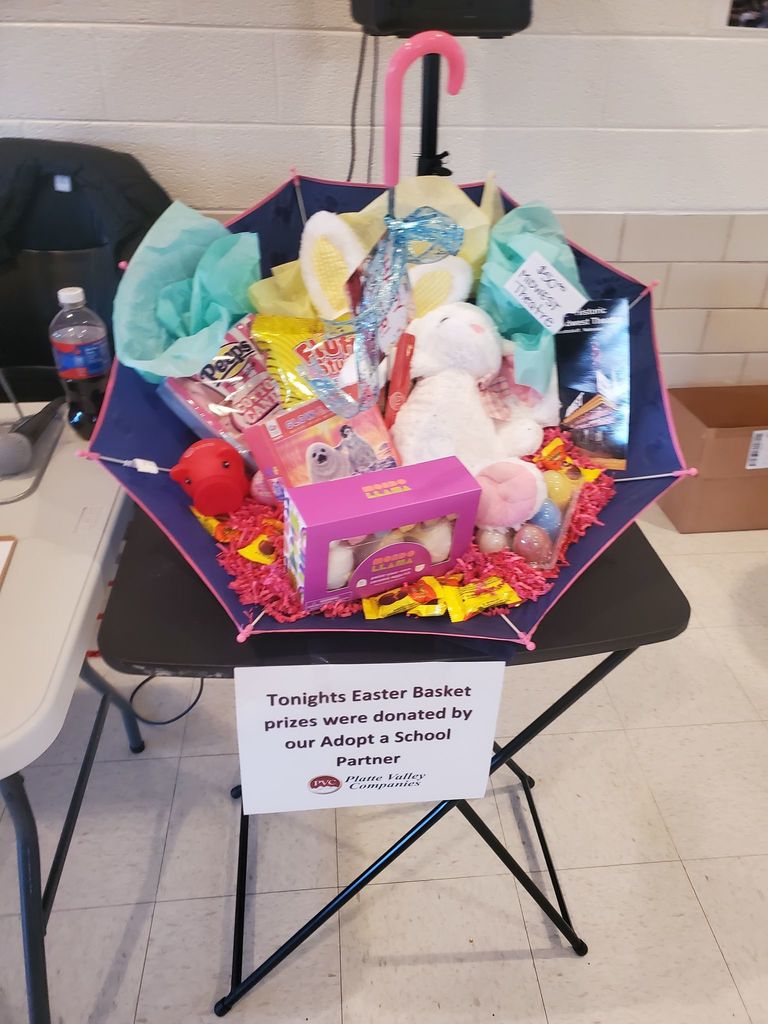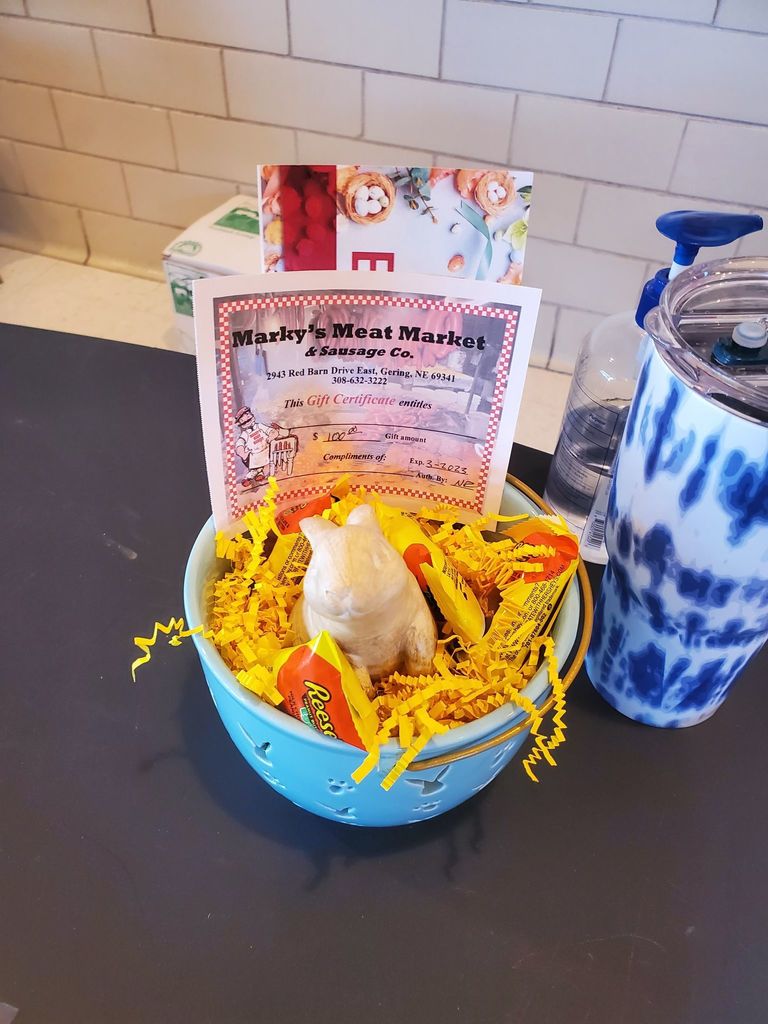 Congratulations to 8th Grade Student Yoselin Reyes for placing 1st in both the 100 meter hurdles and the 200 meter hurdles out of 16 teams!!!